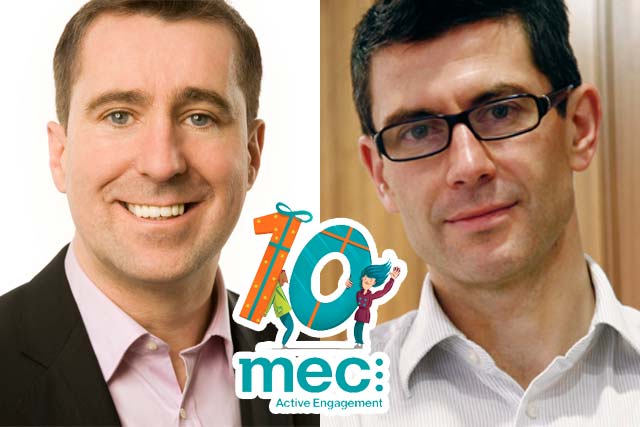 The agency that began life as Mediaedge:cia in January 2002 following the merger of The Media Edge and Chris Ingram Associates (CIA), has in many ways defined the media business of the last decade.
In the UK its fearsome reputation for delivering killer pitches, and the commitment and insights driving those involved, has made MEC a media force to be reckoned with.
Bolstered by the buying might of parent WPP's GroupM, and in the early days untroubled by any major client conflicts, MEC's ascent up the new business tables formed the backdrop to much of the noughties.
The swelling of its client portfolio has been well documented over the years, from the pre-recessionary highs to the post-slump consolidations, MEC has been in the mix.
Beyond its new business success, yet undoubtedly shaped by it, has been a distinct agency culture that has had as profound an impact on the agency-model as Zenith did a decade earlier.
The seemingly incongruous management styles of Tom George, a straight-talking, fast-thinking northerner, and Steve Hatch, a progressive, empathetic sophisticate, has proved a dream combination at the top amidst ongoing evolution.
The media landscape has shifted immeasurably since 2002, with digital having lit the fuse to an explosion in new forms of communication. MEC today has more than 80 revenue streams and many of the roles throughout the business simply didn't exist even five years ago.
And through all this, and the flux of staff numbers more than tripling and billings more than doubling, MECers past and present continue to wax lyric about its culture, ambition and investment in people.
It has been said Media Week can be too critical on occasion, but not this week: MEC at 10 we salute you, here's to the next 10 years... (although you could do with adding to your new business this year).

Tom George, chairman MEC, North Europe

In some ways MEC has changed quite a lot, in other ways it hasn't. We've gone from being labelled as the WPP challeng er brand to an agency that's now firmly established in the top tier of the UK rankings. We've climbed the agency league table by producing excellent strategic work and seamless delivery for our clients and building a highly diversified business.
In addition, over the last five or six years our new business record hasn't been bad either. Of course we've grown from 120 to over 420 people but we've always tried to maintain the challenger brand outlook that was so evident when I first arrived and also being acknowledged as a great place to work has helped attract talent to grow our business.
Personal highlights
There are lots. Winning numerous Agency of the Year titles, being the first ever media agency to be crowned as IPA Effectiveness Company of the Year for our 'Let's Grow' work for Morrisons, being the highest placed agency in The Sunday Times' Best Companies to Work For... but for me it's an acknowledgment of the incredible talent that we've got in the agency.
Testament to that is that most of the senior management in the agency when I arrived are still doing a fantastic job running the agency..
What does the future hold?
The future's bright. We now have one of the most diversified media agency businesses in the UK. We've broadened our talent base by hiring people with skill sets that we didn't even know existed a few years ago, and we remain as committed to maintaining MEC as a distinctive brand and always being a great place to work
It doesn't mean that there aren't challenges – the economic situation is tough for our clients and us, but we will remain committed to shaping our business around our clients' needs. By doing that, what's served us well in the past will hopefully continue to do so in the future
Steve Hatch, CEO UK
We often talk about 'MEC-ness'. It's not something we define but it's a mixture of quality, respect, soulfulness, a drive to produce the very very best answers and have some fun while we do it.
This one may come back to haunt me, but to some extent we're perverts: MEC has always challenged how things are and we love doing what we're not supposed to do.
As a media agency you're not supposed to win IPA effectiveness agency of the year, you're not supposed to win sponsorship awards with Hollis and you're not supposed to win Marketing Agency of the Year for three years straight - but we have.
In short it's about talent and the independent spirit at the heart of the agency.
Personal highlights
Truth is the real ones sound mundane on paper. They're about being in a room with smart people, who you admire, giving themselves fully to solve incredibly difficult questions - more often than not at one in the morning surrounded by an unhealthy number of Delivery boxes.
Pushed to choose two I'd say it's our Sunday Times Top 100 position and watching Fletch win the data innovation category at last year's Media Week Awards.
The first because it's a measure of how well we're doing in creating a place where the very best people can fulfil their potential. The second, partly because we beat Google at their own game (doing what we're not supposed to do again), but mainly because this was Fletch's 6th nomination. In one moment it summed up the agency, whatever the result we keep on going until we win.
What does the future hold?
It's not the most stunning insight to say the world of media is becoming ever more complex, of course it is, however, at MEC we have a magic ingredient - people that run towards, not away from the challenges and opportunities.
Within the complexity the opportunity is huge for an agency with the right skills, attitude and these days, the right level of scale. We've got all these and the future couldn't be more exciting.
We don't understand why you wouldn't want to be one thing, the very best agency, produce the best work with the best people, best technology with the best results for the best clients. Perhaps unachievable but always what we're aiming for.
The challenges are very clear, creating value in a market that often wants to race to the bottom, staying relevant in a new media world and keeping ahead of the pack. Most of all, no matter how successful we've become never being afraid to keep changing and keep taking risks. If this is what we're like at 10 just wait till we become a teenager.
Timeline: A decade of MEC
What the people who still actually do the work say about MEC...
Carl Nawagamuwa, senior digital trading director
Department: Activation
Joined: 2005
What does MEC mean to you?
The agency has changed hugely since I joined, but retained the core values that make it the agency it is. I certainly think MEC has and works hard to maintain a clear culture that allows it to stand out versus other agencies.
It now represents a grown up thought leading agency from the troublesome problem child teenager it was when I joined in 2005.
---
Shil Patel, commercial director, MEC
Department: Commercial
Joined: 2005
What does MEC mean to you?
Great agency to work for, has a good culture and strong leadership team and fantastic people. It's grown from 235 people to over 400 people, a particular highlight was taking 300 people to Barcelona and breaking 16 Guinness World Records, and being part of the team that won Lloyds Banking Group.
---
Luigi Galluzzo, head of business continuity
Department: Facilities
Joined: 2002
What does MEC mean to you?
It's a great place to work with great people. One highlight was last year's Paris Garden refurbishment of reception and basement, along with evolving building a great facilities team able to support the scale of the company as it stands today.
---
Anna Hickey, managing partner
Department: Communications Planning
Joined: I'm in my third week
What does MEC mean to you?
The chance to work with a management team that I consider to be the best in the industry. It's an inspiring place to be and I've joined at a really exciting stage in the agency's lifecycle. I'm looking forward to helping shape the next chapter in the MEC story and the continued success of the agency.
---
James Appleby, business director
Department: Comms Planning
Joined: 2006
What does MEC mean to you?
Collaboration, perspiration, exploration. MEC has grown significantly in both people and billings but I think our essence has remained. Having moved from the broadcast team into comms, I have witnessed the consistency (and sheer drive) in our agency spirit.
---
Samantha Graym trainee
Department: I am on the 9 month graduate rotation scheme which means I have had a 4-8 week taster in each of the following depts: display, press, social media, communications planning, digital brand, MEC access and I am currently working in A&I.
Joined: Sept 2011
What does MEC mean to you?
MEC has been my first step into the media world. It treats its staff well through the various benefits and perks available, one of my favourites being the £200 inspiration fund. There is a special vibe about working at MEC. It has given me more experience than I could have ever imagined, by working somewhere for just 9 months, especially giving myself and 9 others the opportunity to spend 7 weeks at Google on the Squared programme. MEC loves opportunities.
---
Amy Creasey, account director
Department: Digtal Activation
Joined: 2006
What does MEC mean to you?
An agency that is forever challenging and striving to be the best and evolve to be ahead, the community of great people that work to deliver this and a great place to work.
There are so many highlights, I've been to Barcelona twice, skiing, I've worked with some of the best people in the industry and had the opportunity to be part of MEC's success.
---
Clare Rush, joint head of investment
Department: Investment
Joined: 2002
What does MEC mean to you?
I joined MEC 10 years ago when it was Mediaedge and we were a handful of people working in a small agency. The philosophy at the time was that hierarchy got in the way of brilliant media ideas. It was a flat structure where everyone's opinion counted. It was a buoyant and creative period that was then followed by a merger between us and CIA.
Two strongly clashing cultures. This was a difficult period of transition and tension. The real merger really only took place six months in when we took the decision to mix our people on to the opposing agencies accounts. This was when the energy started to bubble and we developed a clear culture of success which started with winning Danone. It was under Tom George the agency started taking off.
---
Amy Robinson, head of new business
Department: New Business
Joined: 2002
What does MEC mean to you?
One thing I truly believe is that MEC has always had spirit. Even in the early days when MEC was, dare I say it, a struggling agency and an inordinate amount of time was spent in the pub (I definitely couldn't sink three pints of Amstell in an hour today) – the camaraderie was always there and MEC was a special place to work.
Having been given the opportunity and support over the years to graduate from being a PA to the head of new business, being a part of this year's Rising Talent programme has been amazing. MEC really does put their money where their mouth is in terms of offering some of the best training programmes in the business.
Follow Arif Durrani on Twitter: @DurraniMix / Follow Maisie McCabe on Twitter: @MaisieMcCabe
AUTOFEED INTERACTIVE TIMELINE