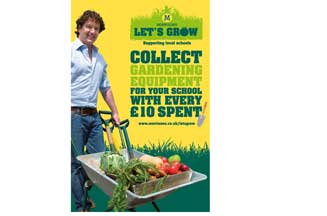 NOT FOR RELEASE, PUBLICATION OR DISTRIBUTION, IN WHOLE OR IN PART, IN, INTO OR FROM ANY JURISDICTION WHERE TO DO SO WOULD CONS
The TV, print and direct campaign, fronted by TV gardener Diarmuid Gavin, aimed to improve children's understanding of fresh produce.
Morrisons based the activity on research showing that 10% of British children are unaware that vegetables such as potatoes and carrots can be grown in the garden.
MEC expanded the three-week ad campaign, which ran in 2008 and was created by DLKW, to target parenting websites with links to 'Let's Grow' pages on Morrisons' website.
Local gardeners across the UK gave talks to schoolchildren about what can be grown in their own gardens. Films of these visits were hosted on the Let's Grow site. As a result, the campaign generated an ROI of £21.57 for every £1 spent.
Lord Chadlington, chief executive of communications agency Huntsworth, and chairman of judges for the Awards, said: 'The Morrisons campaign not only ticked all of the effectiveness boxes, it was also inter­esting, compelling, engaging and had a green element.'
Morrisons' group marketing and communications director, Angus Maciver, said the work was successful in encouraging children to 'get their hands dirty' and develop a passion for produce.
The judges also awarded MEC a special prize in the Best Integration and Effectiveness Company of the Year categories.
Other winners on the night included the British Heart Foundation (BHF), which was awarded the Broadbent Prize for Best Dedication to Effectiveness.
The charity won a Silver award for its Yoobot children's educational game, created by Grey London, which high-lighted the potential future health effects of diet. BHF also picked up a Bronze prize for its 'Watch your own heart attack' TV ad, also by Grey.
The Channon Prize for Best New Learning was handed to DLKW, along with a Gold award for its 2008 Halifax campaign targeting students.
The banking brand challenged itself to recruit as many new student customers as it had in 2007, but with half the marketing budget.
As a result, the agency focused 80% of the media budget on online marketing. The campaign, which carried the strapline 'Be smarter with your money', centred on a film showing the extraordinary lengths students can go to in order to raise funding through university.
WCRS won a Gold for its 'Cyclists should be seen and not hurt' campaign for Transport for London (TfL), which saved an estimated £2.3m in human and administrative costs.
Elsewhere, McCann Erickson Communications House (Manchester) was handed the Best Media prize for its work on Manchester Versus Cancer Alliance's 'Don't be a cancer chancer' campaign.
Red C picked up the Best Small Budget award for its sales promotion, direct marketing and PR activity for insurance company Swinton's