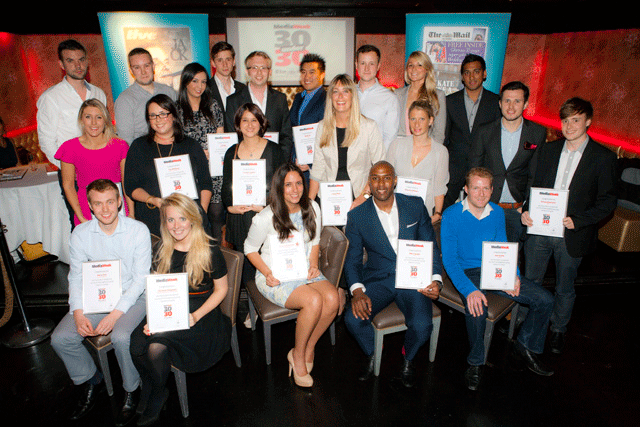 More than 100 guests turned up at The Cuckoo Club to find out who had made it into Media Week's prestigious 30 Under 30 list.
The competition is supported by The Mail on Sunday and the newspaper's managing director Marcus Rich joined Jeremy King, editor of Media Week, on stage to reveal the names of those that made it onto the list.
Dominated by six winners from MEC, the list was also represented by young guns from companies including Digital Cinema Media, the Financial Times, Carat and The Insert House.
Recognising the next generation of talent in the industry, this year's 30 Under 30 saw entrants submit a video alongside their written submissions.
Judged by a team of industry experts that included Marcus Rich, David Wilding, planning director at PHD; Tom Dunn, digital strategy director at Maxus; Karen Stacey, broadcast sales director for Bauer Media, Clare Rush, joint head of investment at MEC and Philip Smith, head of content solutions for the Brand Republic group, this year's entrants were of a very high calibre.
From the 30 that made the list, the judges deemed two be outstanding – Dina Mohammad from the Financial Times and Neilson Hall from iProspect – while John Scott from M2M won tickets for Chris Evans' sold-out event, CarFest, courtesy of The Mail on Sunday.
This year's Media Week 30 Under 30 are:
Aaron Pull - Radio Advertising Bureau
Abi Walker - Immediate Media
Ben Mellor - Manning Gottlieb
Chrissy Totty - Vizeum
Caleb Forbes - ZenithOptimedia
Carl Nawagamuwa -MEC
Dan Wilson - MEC
Dina Mohammad - Financial Times
Ed Chater - Somo
Emil Bielski - MEC
Eve Williams - Cedar Communications
Garrett O'Reilly - M2M
Ian Bowden - Arena Media
Jackie Fast - Slingshot Sponsorship
John Scott - M2M
Joti Rai - DCM
Kwai Chi - Total Media
Louann Sugden - MEC Access
Laura Platt - Hearst
Mark Joesph - Testify
Michael Brand - DCM
Natasha Williams - Carat
Neilson Hall - iProspect
Parry Jones- The Insert House
Richard Bartlett - MEC
Richard Bradford - MEC
Sam Ashlin - Initiative
Sian Lepperd - The Insert House
TabithaGoldstaub - Rightster
Victoria Shepperd - Chartwell Media