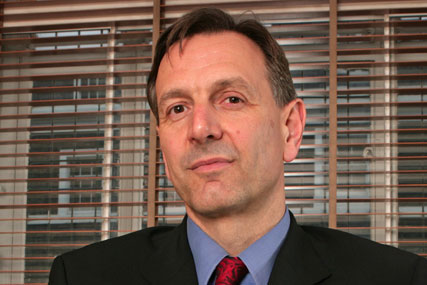 Lund was speaking to marketers, agencies and media owners at the Media 360 conference only only days after COI wrote to agencies to inform them Government advertising expenditure could fall "by at least 50%" during this financial year.
The letter followed a decision by the new Government to cut COI spend by £160m, freezing all new spending and allowing only "essential campaigns". The list of campaigns to be axed is yet to be finalised.
The change did not come out of the blue, Lund said today: "We have known that there was going to be something happening of this sort for a while now. We've been looking at how we prepare for the new world. Some of the people here have been engaged in this process."

Lund titled his presentation 'Democratising Communications – Making the Most of Less'.

He said: "This is a reasonably well-disciplined and run business, but that's not enough. We're now in the business not of demonstrating proficiency or of shaving at the edges, we are in the business of big change, particularly this year, where in effect we're in a freeze until the end of this financial year 2010/2011.

COI has to move on from its traditional methods, and that means rethinking the channel mix to make more use of owned and earned media as well as paid media, Lund indicated.

"We have to build around paid. I'm looking at Alex Altman, who runs M4C, our newly appointed media agency. Alex we will still be doing paid [media]. But we are going to have to work out how we create owned and earned around it," he said.

"Because government is in a really interesting position here. We have fantastic owned channels. We have teachers, we have doctors, we have librarians, we have a huge web spend, we have lots of offices, we have lots of people who speak for us and who are trusted by the people to whom they speak. We've got to use and motivate and engage those people as well as the places, the physical space in which they work."
Moving on to earned media, Lund said he wanted to use PR in more than a reactive way and pay more attention to media partnerships.

"I think we have to start pushing back the boundaries of where paid-for communications stop and editorial content begins. We have to find a way of creating and, importantly, valuing what those partnerships can do.

"That's an open challenge to media agencies and media owners about how we create those media partnerships."

He also revealed that on Monday COI would open a consultation about creating a payment-by- results system that works for it, agencies and media owners.

COI will also be creating a pan-government shared evaluation service which it is seeking industry advice on. "We have to evaluate and measure and create a financial worth to what we are doing," Lund said.

"Commercial brands will hopefully play a bigger role in supporting government campaigns," he added.

Change4Life, the anti-obesity campaign which some speculate may be in danger from the budget cuts, was held up as a great example of a brand partnership campaign.

"We have to create movements, things with real traction in people's imagination, that partners want to get involved in and can find commercial advantages in."

There could be a shift in the way COI themes campaigns to group them under fewer, bigger brands, such as Change4Life.
The COI spent £540m on marketing in the year to the end of March 2009. This includes £211m on traditional advertising and a further £40m on digital, according to the COI's annual report.