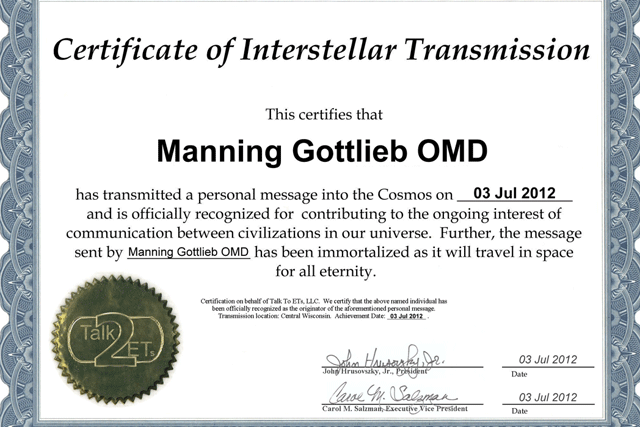 Calling occupants of interplanetary craft
Some of you in media really need to pull your socks up, if what Bitch has been hearing from OMD is true. Seems like the agency has really pushed the boundaries on their latest staff challenge and actually managed to push the message to space.
The initiative, as part of the OMD Digital Creativity Week, was to get the agency's message as far and wide as possible and, this girl hears, OMD really thought outside of the box.
Turns out that Gavin Conway, Digital Director at Beyond@Manning Gottlieb OMD got the message #OMDDCW out into the cosmos, finding a website that can broadcast messages and images into space via the light spectrum.
According to Gavin, the message travelled at 186,000 miles per second. In one hour, the message had travelled over 669 million miles; in one day, over 16 billion miles; and in one year, over 5.8 trillion miles...virtually forever.
Jean-Paul Edwards, executive director of Futures at MGOMD managed to transmit the same message to a digital billboard in Times Square. What a clever bunch.
Apparently the interstellar phone call only cost $20, which is just as well, or Manning Gottlieb OMD managing director Robert Ffitch might have had some explaining to do to the board.
The Young Ones
On behalf of Media Week, Bitch would like to congratulate the 30 young, and hugely over-talented media types who walked away with the awards at the annual 30 under 30 event at the Cuckoo Club in London, held in partnership with the Mail on Sunday.
The media big wigs to turn out included Mail on Sunday managing director Marcus Rich, MEC chief executive Steve Hatch (who's agency cleared up at the event with no less than six winners), Maxus chief executive Lindsay Pattison, new managing director at OMD Dan Clays, Bobi Carley, commercial director UK at Disneymedia+ and a special mention must go to the lovely Karen Stacey, head of broadcast at Bauer who raced across town from her daughters birthday party to see who she had judged on take their certificates.
Last night's event went with a bit of a swing, according to this girl's sources on the ground, with the (lets say, more mature) element remarking on the fresh faced nature of the candidates, with at least one of the assembled crowd asking if the candidates were "old enough to drink," before they decided that they were just "old, bitter and twisted" but mentioning a "40 under 40" spin off.
Amazingly, for a media do, there was still lots of money on the tab at the end, which at least one of the Media Week team did their best to get rid of. Heroes all round then.
Pay day
Well, well, Bitch would be a little remiss if she didn't mention the proposed purchase of Aegis by the Japanese marketing services network Dentsu, which took the uninitiated by surprise this morning.
However, it seems that although the deal seems a little unusual (Bitch is sure that they can handle it) with the company being valued at £3.16bn, but it seems that until the deal goes through only official lines of communications are open.
Not that Bitch is surprised, as those who are lucky enough to have shares in the company including Aegis chief executive Jerry Buhlmann are probably too busy thinking about what to do with the cash, and who can blame them?
Until next time my little acquisition types.
Bitch xxx