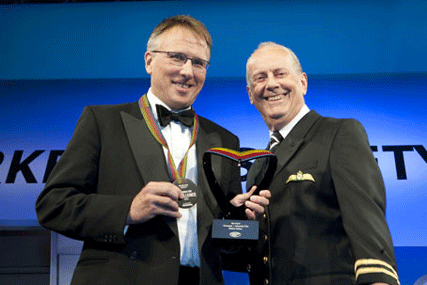 Mullins escapes the Tommy Two Ways treatment
This girl's Monday night was spiced up a little by a former Conservative MP. No, not with something naughty involving fishnets and a tangerine (not this time), but when she bumped into 'The One Show' presenter Gyles Brandreth, who was hosting the Marketing Society Awards for Excellence 2012.
Shame that Brandreth seemed to be concentrating on the media and marketing boys rather than this girl.
In front of an assembled audience including Daren Rubins, chief executive of PHD, Simon Redican, managing director of the Radio Advertising Bureau and Jonathan Gillespie, commercial director at GMG Radio, he waxed lyrical about the attributes of the male members of the audience including winners, award presenters – well, pretty much anyone who came on stage.
Bitch does like a man who can camp it up with the best of them and her new friend, dressed as a pilot for the air travel themed bash, didn't disappoint, stating, "I am a modern Conservative, which means there is a touch of the Tommy Two Ways about me."
"What an attractive specimen," Brandreth remarked of a Kenco marketer, before wondering whether a Unilever man waxed, but it was tall blond BT Retail marketing director David James who really caught his fancy.
"It's fun meeting him on Mondays, Wednesdays and Fridays, because on Tuesdays, Thursdays and Saturdays he shaves," he told the audience. No such luck for Andrew Mullins, the closest media man to Adonis to grace the stage.
The managing director of the London Evening Standard and The Independent went up to collect the best new brand gong for Independent spin-off i but from Bitch's hazy recollection all he got from the host was a manly handshake. Better luck next time Andrew...
No clothes Pegg
Bitch hears that those cheeky boys at outdoor specialist Outdoor Plus have some friends in high places, namely Hollywood. How else would you get 'Mission Impossible: Ghost Protocol' and 'Star Trek' actor Simon Pegg to personally thank you for your efforts?
However, this missive is one with a difference, due to what the star of 'Hot Fuzz' is actually thanking Outdoor Plus sales director Grant Branfoot for.
In the video that Bitch received from one of her sources, Pegg thanks our Outdoor Plus star for letting him "flash so utterly" on the North Circular.
Before you mucky bunch get the wrong idea about actions that usually take place down the road at Hampstead Heath (she's told), it is all above board, which is a bit of a shame.
The video refers to a campaign booked for MediaCom client Universal pictures running on Outdoor Plus panels for Pegg's latest film, 'The Fantastic Fear of Everything', which features the actor in his pants darlings.
Silence is golden
Being a girl about town Bitch was lucky enough to be at Regents Place this week, home to the lovely bunch at Carat, Vizeum and iProspect. Being shown around the agencies offices was a nice way to get out of this horrible rain (is it really June my little drizzle types)?
Walking down the hallowed halls, Bitch was a little confused to hear one member of staff reveal that they were "going to the library", which had this girl a little confused.
Had the new intake of graduates insisted on an internal bibliotheque, to remind them of their university days? Had Aegis Media print director Dominic Williams suddenly taken to the works of Shakespeare, Proust and Camus?
Not in the slightest, "the library" this girl learns, is actually the senior management hub on the first floor, which includes Aegis chief executive Jerry Buhlmann and Nigel Sharrocks, chief executive of Aegis Media Global Brands and is supposed to be as quiet as, well, a library.
Strange, Bitch has met both of the media men and never really put them down as the quiet type. Although, she must say that the gregarious Sharrocks has always looked quite bookish in his glasses…


Nice to be back my darlings, see you next week, so keep your noses clean.

Bitch xxx