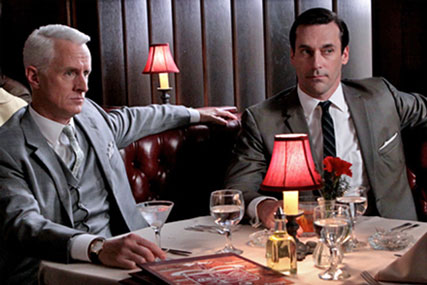 Sad Men
Bitch has heard on the Charlotte Street grapevine that screen tests have been happening up and down agency land over the past few weeks, to find a host of panellists to take part in an upcoming game show on Channel 4. The show is looking to surf the wave of popularity created by 'Mad Men'.
Apparently, a brief went out from the Institute of Practitioners in Advertising (IPA) to find willing victims for the show, and employees from media and creative agencies up and down Fitzrovia have been preening themselves ever since, which Bitch finds a little sad.
Remember though, before you get too big for your boots, Bitch is the queen of this particular jungle, and she's waiting on the call from Channel 4 – she's sure that Channel 4 chief executive David Abrahams or new sales director Jonathan Allan can put a word in for her…xxx
Pussy passed on
Bitch is sad to hear that pussy is no longer active at the7stars – that's to say that the agency's cat has died.
Well, Bitch may be pushing it a bit too far (something she gets accused of regularly), as the adopted agency cat, called Tom Paine, actually belongs to the pub the agency is named after, where the founders Jenny Biggam, Mark Jarvis and Colin Mills plotted their plan for media world domination (or at least the domination of the local tapas restaurant Baricca on Goodge Street) back in 2005.
The cat's owner Roxy Beaujolais (you couldn't make it up darlings), the proprietor of the pub, Bitch thinks must be understandably distraught, but not as distraught as she was when she first found the agency had been named after the Holborn boozer, but soon came round to the trio's charms.
However, there was one stipulation – that any other ventures from the media agency start-up must also be named after Roxy's other establishment, a restaurant. So Bitch is looking forward to the future 7stars conflict agency…The Bountiful Cow!!!
RIP Tom Paine.
Smooth operator
You know how much Bitch loves the armed forces (they can drop and give this girl 20 anytime), so she is pleased to hear that the annual Help for Heroes event is happening at GMG Radio's Smooth and Real Radio stations today.
The event is in its third year and guests today include Arctic explorer Sir Ranulph Fiennes, 'X-Factor' hunk Matt Cardle and the fabulous John Barrowman. Bitch does think that it was a bit of a bad move to photograph the 61-year-old David 'Kid' Jensen next to the 31-year-old opera singer Katherine Jenkins, especially when he looks like he's just had a blonde rinse.
Good luck today Smooth and Real Radio petals...
Draining the bar
Bitch hears that the naughty lot at out-of-home specialists Ad Media have been enticing agency folks out for drinks again (hope it stays within the confines of the Bribery Act, outdoor types), when the company held a Drinks & Demo event at Dr.Inks, just a stone's throw from WPP agency MEC.
Around 60 people from MEC turned up to take advantage of the free bar (Bitch would act shocked, but she knows the MECers and they're anyone's for a free pint). Attendees were able to enter a competition via Admedia's mobile-enabled panels to win £250 worth of LastMinute.com vouchers. The lucky winner of the competition that partnered the drinks festival to win £250 of Lastminute.com vouchers, was Jake Mason, a planner buyer at the agency.
He is pictured (above, with the rather fetching glitter wrapping paper) with James Whitbread, account manager at Admedia, who hosted the night.
Under two weeks to go until the Media Week Awards and then it's Halloween, pumpkins. See you next week. Bitch xxx