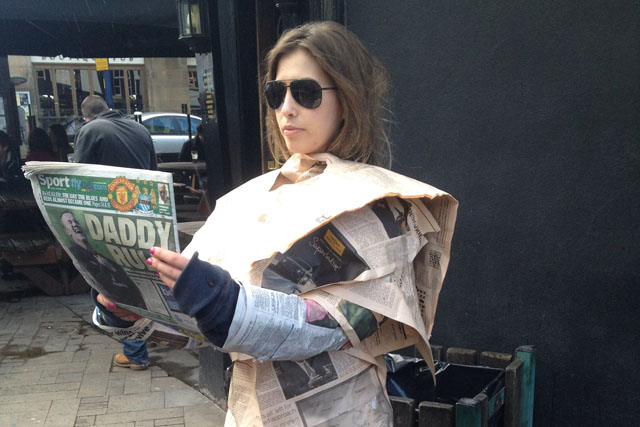 Singing in the rain
Bitch knows that Vizeum lot are an exotic bunch, so this girl was expectant with tales of seaside resorts, sun and sand when she was told that the Aegis agency had been on an away day recently. Bournemouth, Brighton even Bognor Regis, well no, Manchester.
Turns out that the new managing director Richard Morris has quite an easily amused set of media types as they headed up North to do some team bonding with extra tasks on hand. This included a treasure hunt around the famous city where the Vizeum crew had to complete various tasks.
The first task was to recreate a famous film, with one of the groups talking advantage of the inclement weather to get a good sploshing while belting out 'Singing in the Rain.' The second task Bitch hears was to create a suit out of newspaper, which was deftly taken on by Alannah Wesley, communications executive at the agency.
Immediate stardom
With the Media Week offices based in sunny Hammersmith (or Glamoursmith or Horrorsmith as the locals call it) the staffers can usually be found in one of the hostelries in the area on any given night.
Bitch has been told that earlier on this week at least two of them were disturbed from their pint supping in local bolthole Latymers by a deafening screech coming from across the road from Immediate Media (formerly BBC magazines).
Further investigation by the team revealed that the source of the mania was a visit from pop star Austin Mahone (yes, Bitch knows darlings, who?) who is very big in America apparently.
Little Austin performed one of his first gigs at the offices of the publisher for a group of readers who won a Top of the Pops magazine competition and year six pupils at Servite RC Primary School, Fulham. It's a long way to the O2 Austin sweetheart.
OMG!
On the subject of teen news, Bitch was around for the launch of the Yahoo My OMG! face campaign at Westfield White City this week (well, she was passing and shopping for shoes my little petals). This girl observed as shoppers at Westfield were invited to pull and share their best "OMG! face", which was described as a "face you would pull when reading the juiciest celeb news and surprises" on the site.
Bitch got all excited about the promise of "celebrity guests" and watched Peter Andre nip in just in time for a flash (of the bulb in the special photo booth), along with her favourite ex-Towie pair Amy Childs and Harry Derbidge.
Bitch always knew their careers would hit the stratosphere when they left the show and turned up on Channel 5.
Until next week my little turn up to the opening of an envelope types.

Bitch xxx