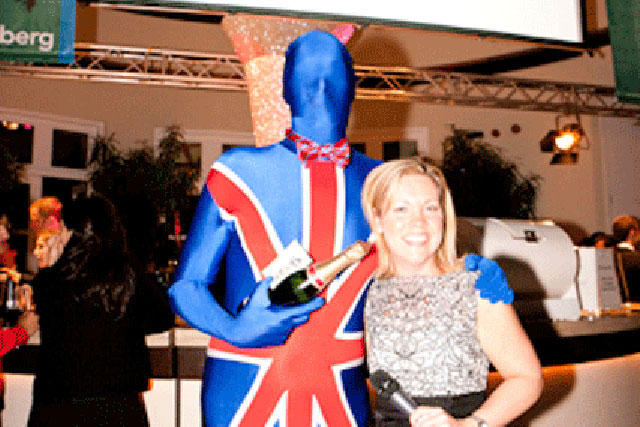 Bring out the gimp
Looks like the annual IAA Summer Ball went with a bit of a swing. The annual industry networking event held at the Hurlingham Club had a bit of an Olympics theme this year Bitch hears, with the audience getting into the swing of things with all sorts of dressing up for the IAA Games (it's any excuse for you guys, isn't it?)
Not only were the guests faced with balls of various shapes and sizes raining down on them from above (footballs, tennis balls, nothing dodgy, darlings), but also got involved with gusto in the raffle after a few light ales.
Prizes included a mixed case of Summer wines (whatever that is) donated by Newsweek Daily Beast Company, a case of six bottles of Champagne, donated by the Financial Times, a whisky membership donated by the Wall Street Journal, and two VIP invites to the MTV EMAs in Frankfurt. One of the sales team at Haymarket Towers (you know who you are ad manager Lydia Handley) walked away, bizarrely, with tickets to the Olympic weightlifting, but that's the luck of the draw.
Well done to all those who attended this girl says, apart from the slightly disturbing man, above, who decided to come as a Union Jack gimp.
Hanky panky
Well, the gig of the week seems to have been all about a certain cherished material girl who likes a bit of hanky panky.
According to her sources on the ground at Madonna's Hyde Park gigs this week, the crew from MediaCom got into their groove with Madge and had a grand old time.
Bitch may be mistaken, but if she was correct – from her secluded vantage point – that the doyenne of media glamour (and regular in this column) Claudine Collins, managing director of MediaCom, was wearing some rather fetching PINK wellies.
A girl after Bitch's heart. And before the chief operating officer of said agency Josh Krischefski starts laughing, Bitch was rather taken aback by some of your "dancing" alongside chief executive Karen Blackett. C'mon Vogue!
The MediaCom boys take Bitch for a ride
Sticking with MediaCom, this girl thinks that its all right to love your clients, but not if it involves stretchy shorts, lots of sweat and a good ride.
However, in this case it is perfectly acceptable as it's all in a good cause. Kicking off today (19 July), Liam Dawson, George Bennett, Jan Neumeister and Jon Goldsmith, who are all part of the Sky brand planning team at the WPP agency, will be attempting to cycle 295 miles from London to Paris in three days and the little petals are lining up alongside their clients to do it in an event organised by Sky Velo, the broadcaster's cycling club.
The ride will culminate in Paris to coincide with the Tour de France finale on 22 July and best off all, after they've had the obligatory team bath (Bitch hopes she gets the photos), they will realise that they have earned a lot of money for Prostate Cancer UK. And to that end, the link for those who want to support is here
Until next time my little saddle-sore types.
Bitch xxx