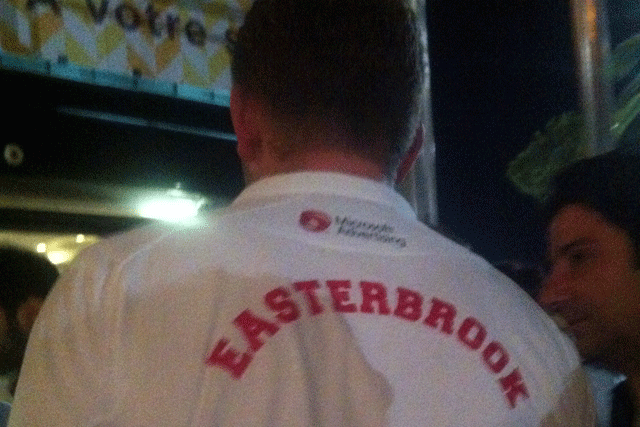 England expects...and so does Easterbrook
The hangover from Cannes continues you award-winning lot. Some of you got something you could give a good rub when it gets filthy and the others didn't come home with an award or two.
Some of you found that hard to swallow, but most of you media types had a damn good time anyway. Especially when it came to the football matches that were happening in between swanning down the Croisette and piling into the rosé.
Well, one of you important media types has now been betrayed by your fellow media men as Bitch received this photo from an anonymous source this week. Step forward Stewart Easterbrook, chief executive of Starcom MediaVest, who was snapped watching one of the England games in a nameless bar, with an England shirt emblazoned with his own surname.
Stewart, darling, it's one thing supporting your country, but you're a chief executive my love…and there's something of the whiff of the chav about your bold fashion statement. Just pointing it out.
Cannes Lionhearts
Staying with the Cannes Lions, there have been a lot of rumours reaching back to these shores, and Bitch isn't quite sure what is truth and what is legend, but if it's the difference between truth and legend – print the legend.
Apparently, one media agency independent (and there aren't too many of those around) took the theme Cannes Lions a little bit too literally, actually turning up to one event dressed head to toe in costumes as the feline king of the jungle. It must have been sunstroke from all that heat.
However, this is the same agency that managed to blag entry into the party held by Media Week's sister title Campaign, using the name of a journalist who wasn't even there
Bitch isn't going to tell you which agency, but they've graced these pages a few times and were named after a pub….
Feed the world
Bitch hears that her friends at MPG Media Contacts have rolled themselves out as charity superstars this week in the name of the World Food Programme, the nominated charity of its parent company Havas.
Not for these generous types to go on a charity cycle ride or climb Mount Kilimanjaro, but a much more pleasurable way of doing things.
Initiatives were as simple as foregoing a morning coffee and putting the equivalent £3 into a collection bucket (or donating via the online bidding site) or heading for lunch in the café, with food donated from Eat, Abokado, Dishoom, Pret and pizzas sponsored by Google, and then donating £5 towards the charity. The agency also held a charity auction.
However, Bitch hears that one of the MPG Media Contacts staff was rather eager to get to the food, have a gobble and came close to pushing in. You know who you are head of digital trading and display Paul Vassallo.


Anyway, my little hungry types, until next week.

Bitch xxx