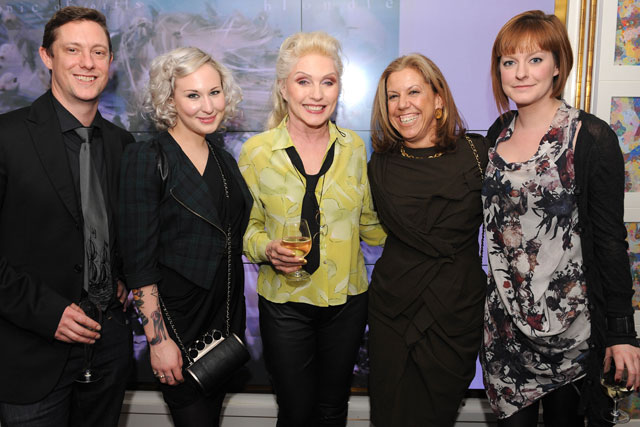 Hanging on the telephone
Bitch isn't usually used to having her phone calls not returned (you know who you are, and you know you'd better watch out), but one girl she can always get hold of is Future CEO Stevie Spring, and so Bitch was a little annoyed when she saw this photograph that was sent to her this week to promote the launch of 'Panic Of Girls' the new album by eighties superstars Blondie.
Anyway, it seems that Stevie has turned in the direction of the gorgeous lead singer Debbie Harry.
Bitch is only teasing, as she loved Blondie as a youngster, but she's just wondering why a publisher called Future is now so obsessed with the past darlings.
We're much more civilised in media

News comes to Bitch that the recent placement of TBWA/London in 'The Apprentice' had to be recut several times to remove the agency's logo from shot, due to some extensive work from the in-house team at the ad agency to get the camera crew to specific places where only the logo could be seen. Apparently, when the BBC crew got back from the shoot at the agency, the producer lost it and ordered a complete overhaul.
Bitch only mentions it because every media agency and his dog has told Bitch how there's been an "aerial shot" of their offices on the show – it's called a helicopter over London, darlings.
Not quite like the senior source at Vizeum, who told one of Bitch's contacts that the show filmed some of it's opening shots around its Regent Place offices, because "it's like a ghost town around here at the moment, and there's f*ck all to do."
Bitch does hope that they soon get their brothers and sisters at Carat to move in to the half-empty building soon.
Here come the girls

Bitch is always one to get behind the sisters, so was thrilled this week to hear about the kick of to a new shout out (sorry, Westwood) for women in media.
The event, called 'High Heels and Glass Ceilings' (bound to be Jimmy Choos as it's media) was held at the A&N Media auditorium, at Northcliffe House, one of the Daily Mail and General Trust buildings, a venue Bitch guesses was secured by panellist Linda Grant, the new managing director of Northcliffe-owned Metro, who along with Nicola Mendelsohn, the president of the IPA and chairman at Karmarama, held court.
It was organised by networking, mentoring and fundraising company Bloom, and was packed full of women. Bitch is glad that the boys were obviously left to do the childcare, as it's half term.
Hopefully, it won't receive the same damning names as the rest of the women-based initiatives in advertising and media. Bitch was shocked to hear one (particularly unenlightened member of media) refer to the members of WACL (Women in Advertising and Communications London) as the "witches coven". Boys, boys, boys…