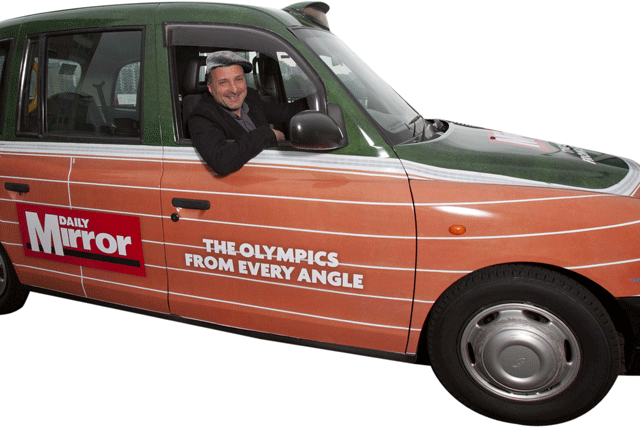 I 'ad that David Emin in the back of my cab once...
Bitch has heard that David Emin, director of advertising at the Mirror Group, may have had to get himself a second job after the ups and downs at the publisher – as a London cabbie. Thankfully, that's turned out to a bit of a misunderstanding, and the Emin household remains as affluent as ever with no part-time driving gigs required.
This girl hears that the confusion stems from a Mirror Olympics promotion that includes black cabs liveried with the legend, "The Olympics from every angle" and the Daily Mirror logo.
According to a letter sent out by the Mirror commercial boss to his "friends in the business" and seen by Bitch, anyone who has received a special card is entitled to get taken to a destination for free, should they flag down one of five fully liveried of the total 300 special cabs that will be promoting the Daily Mirror's Olympic coverage, if they take a photo of the driver's licence and email it to a special Mirror email address.
The letter apologises that the driver can't wait around and drive you back, but then again, some have been used to one-way journeys from the Trinity Mirror offices recently, haven't they Sly?
One thing's sure though – if Media Bitch gets one of the cards, she'll let David take her for a ride anytime.
Spot(ify) the celebrity
This girl hears that one of her Media Week boys was in serious recovery mode this weekend, not being able to get off the sofa most of Saturday. This was due to a particularly spectacular date with Spotify, the online music service, at the annual bash for the Nordoff Robbins music charity at the Park Lane Hilton on London's Park Lane.
Being placed right in the celeb zone, the MW staffer said he "couldn't look round and not see a music star." These included, Sir Tom Jones (no photographs, please), Jessie J (lovely and friendly), the Manic Street Preachers (really nice guys), and Norman 'Fatboy Slim' Cook (couldn't have been more accommodating). Crooner Michael Bublé got so excited he actually started bidding against himself for one of his own prizes.
However, music is no match for media, as the table outshone the rock stars, all in the name of the industry (well, you can't let the side down), with the Spotify contingent including director of business marketing for Europe Beth Gordon and account director Sarah Logan, entertaining the likes of Simon Pont from Vizeum, James Morris from MediaCom and Mark Middlemas from UM London.
Media beating good old rock 'n' roll? Well yes, actually, as Kylie Minogue (who was picking up a 25-year career award) was whisked in and out by security and one of the Manics had to leave early, to go and "watch my kid at their school sports day…"
Miron's alive!
Your favourite earwigger has been hanging around in the hallowed halls of Global Radio this week in her effervescent search for what's going on in this little village we call media. The event? The Nabs Partner Card Tuesday Club, which offers talks from some of the most respected figures in the industry (and Daren Rubins – only joking my little PHD darling).
The aim is to get you budding little superstars insight into developing your own leadership style and advancing your careers.
The first event was held at the radio network and opened with a talk from Global Group chief executive Stephen Miron, which was in typically understated style, about how the parent company of the Heart and Capital networks continues to prosper.
The presentation then took a turn towards the surreal with booming 'Flash Gordon' star Brian Blessed on video, who interacted with two global radio employees in white coats to test the brainwaves of typical Global Radio listeners and demonstrate how different parts of the brain are affected by different types of music.
Just as well they were studying the brain, as this girl hears that when Capital drivetime DJ Greg Burns arrived to do a Q&A straight from the studio, and was asked what his all-time favourite radio ad was, he defaulted to the latest celebrity filled Capital ad.
Come on Greg luvvie, we all know the boss is looking over your shoulder, but please…? At the end of the tour, the guests were treated to drinks and canapés on the roof of the Global Leicester Square headquarters, where they were treated to a view of Nelson, and his rather spectacular column.


Until next week, my little sightseer types.

Bitch xxx