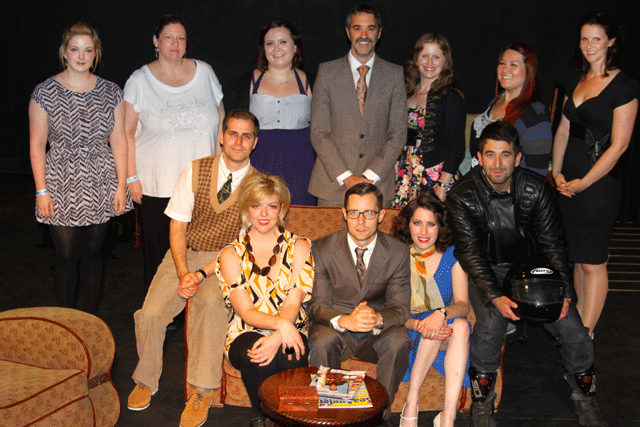 Treading the boards
Well, well, who would have guessed it? It seems that some of you little media types hold loftier ambitions to tread the boards and enjoy the smell of the grease paint and the roar of the crowds (or is it the other way round?) if Bitch's sources are to be believed. Turns out that Carat's media luvvies have actually become thespian luvvies, darlings.
The loftily titled Carat Players trod the boards recently in an Alan Ayckbourn farce, 'Taking Steps', much to the delight of agency staffers and the assembled audience at the three-night, sell-out performance at The Diorama Theatre, around the corner from Carat's Triton Street offices.
Bitch is assured that the play had more double-entendres than the average rather spunky column from this girl and that the cast, including Carat thesps Ian Attfield, John McNamee, Kitty Jansz, Nikki Wilkinson, Oli Marshall and Rob Honeywood, had a great time in this tale of bed-hopping and bewilderment.
Seemed the play involved delusion, sex and betrayal, so not that different from the average day at a media agency then?
Teenage dreams
Carat isn't the only agency that's been subject to a live performance of late, as Interpublic Group media agency UM London played host to a singing "superstar" when Vevo brought one of its roadshows to the agency's St. John's Square offices, Bitch hears on the media grapevine.
The artist in question? Conor Maynard (yes, this girl had to Google him as well, apparently he's the new Justin Bieber).
The reason why this experienced girl had trouble placing him is that Conor happens to be a little on the young side at AGE 19!
According to one of Bitch's sources, it was more like a bring-your-kids-to-work day, with agency staffers being almost outnumbered by their offspring.
The crowd included Initiative chief executive Alex Altman, the agency's managing director Anna Watkins, and Paul Benson European managing director of Orion Capital.
The ever-funky Alex got some serious kudos from his daughters, as they got to hang out with Conor and take a group photo onstage, along with some other staff members' children, after the event.
Bitch hates to say this but she's got high heels that are older than this particular pop sensation.
Spot the difference
Bitch has been admiring the handiwork of the in-house team at Global Radio that has managed to create the eye-catching ads for Capital 95-106, featuring superstars including Katy Perry, Usher and a famous boy band (The Wanted) among others that had been running since January 2011, she has been reliably informed by her sources.
So imagine this girl's surprise when she stumbled upon this ad for a new Clear Channel-owned US radio station, Atlanta's Power 96.1, during a late-night trawl of You Tube. The ad features none other than Katy Perry, Usher and a famous boy band (One Direction) and looks surprisingly similar in what is obviously meant to be an, ahem…homage she's sure. Make up your own mind.
Here come the girls
Interpublic Group has been busy this week, if the next item is anything to go by. Bitch likes to help her sisters out, so she'd like to flag up the genesis of a new group within media, focused on the advancement of women.
IPG WLN London is open to women within the Interpublic Group and plans to deliver "everyday support, inspiration and education to enable the professional advancement of IPG women," according to its mission statement.
The first session includes a speech from IPA president Nicola Mendelsohn and will be chaired by senior new-business and marketing manager at initiative, Lizzie Jarvis. A breakfast launch will take place on 19 September.
Until next week my little empowerment types.
Bitch xxx