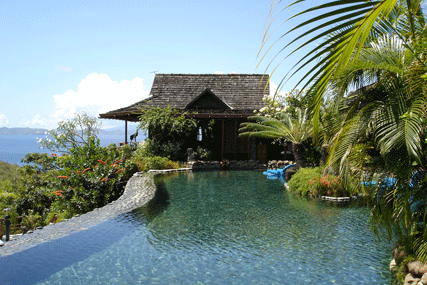 Felix Dennis shares Caribbean hideaway with staff
Dennis Publishing chairman Felix Dennis surely runs the best staff incentive scheme in the media business - a week's free holiday at Mandalay (pictured above), the Caribbean hideaway on Mustique he bought from David Bowie.
Once a year, all Dennis employees who have worked at the firm for more than a year are eligible to enter the Employee of the Year contest, with the winning four members of staff announced at the magazine publisher's Christmas party.
Marketing manager Claire Scrase - the first of last year's winners to jet to the Caribbean - is as we speak enjoying Mandalay's 17 staff, two swimming pools and underground games room (complete with stage), while James Morris, Tim Farthing and Andrea Mason are planning their trips for later this year.
Felix himself "may or may not be" at home to entertain, so Bitch cannot yet report whether the maverick publisher treats his guests to impromptu poetry recitals - watch this space for a full account from Claire on her return next week.
High jinks in Las Vegas hotel rooms at targeting convention
Meanwhile, behavioural targeting company Audience Science jetted to Las Vegas last week for the 2010 Targeting Summit, spending three days carousing in various themed hotels.
The conference was a great opportunity to meet US colleagues and clients, says Roger Williams, UK marketing director - and the networking continued over the casino tables of The Strip, where US marketing head John Hirsch cleaned up, pocketing a cool "couple of thousand" dollars.
But the real action took place at an impromptu party in Williams' hotel room on the final night, where "everyone had a go" at arm-wrestling (European managing director Stuart Colman pictured below arm-wrestling a female US client).
"I was hoping to get some sleep but my room had been invaded by 13 US and UK colleagues," says Williams, who finally kicked out the revellers at 3am - but not before fellow guests at the Encore had complained about the loud music.
'More jokes, fewer girls' as Monkey makes iPad bid
Back to Dennis, which is hoping to launch men's magazine Monkey on the iPad when it launches in the UK - except the e-magazine's risque content will have to be toned down if it is to be approved by Puritan Apple execs. As Dennis chief executive James Tye put it: "There will be fewer girls and more humour."
Backlash as Zoo advice column sinks to new low
But the big story in lads' mags this week was the outrage over Danny Dyer's advice column in Bauer Media's Zoo (pictured below), in which he told a heartbroken reader to "cut your ex's face" so "no-one will want her".
Dyer has subsequently been sacked by the magazine, with Zoo apologising for the "extremely regrettable production error" and planning to devote next week's spread to raising awareness about violence against women.
Magazine agony aunt and academic Petra Boynton, who advised Zoo's launch publisher Barry McIlheney, now chief executive of the PPA, said she was "shocked in a heartsink [sic] way" when she saw the "dismal and shocking" news, and warned the furore will hit Zoo's advertising revenue.
She said. "There are certain things you don't joke about and this is one of them. Never mind sacking Danny Dyer, they should sack the editor."
Lebedev Jnr celebrates big 3-0 in Italy
And finally: Birthday wishes are in order for Evgeny Lebedev, the son of the Independent's new proprietor Alexander Lebedev, who is celebrating turning 30 this weekend with a party in Italy.
This week also marks Evgeny's debut column in the Spectator, in which he attacks the magazine's former editor Boris Johnson about his proposed artwork to mark the London Olympics. Safe to say Boris will not be joining the - no-doubt glitzy - guestlist to raise a glass in Italy this weekend.