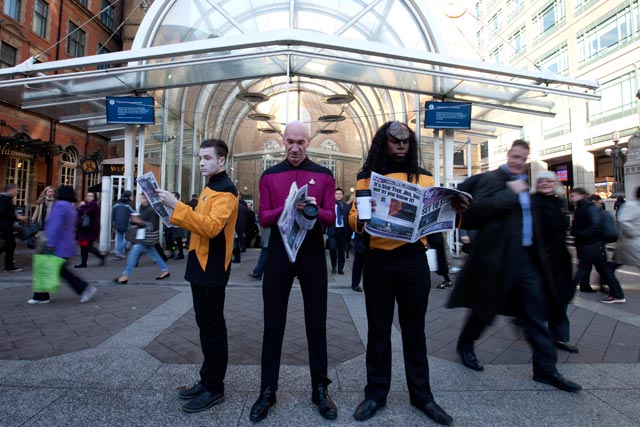 To boldly go...to the station
Bitch has never particularly been a Trekkie (about the nearest she gets is the occasional dip in and out of 'The Big Bang Theory'), but she was intrigued to hear that commuters in London, Manchester and Birmingham found themselves sharing a tube carriage with Captain Jean-Luc Picard, android Lieutenant Commander Data and Klingon officer Worf this week.
Don't worry, the commuters hadn't particularly been smoking something funny, in fact the stunt was to promote the launch of 'Star Trek: The Next Generation' on digital channel Syfy in glorious high definition.
More excuses for the geeky types in your digital and data departments to stay in of an evening then and play with their...phasers.
Ora-some!
Media Week had a particularly celebrity fuelled start to the week Bitch hears when one of her boys rocked up to OMD UK reception on Monday morning for an exclusive (and intimate gig) from young starlet Rita Ora.
According to her boy on the scene, who apparently came back like a love-struck teenager, Ms Ora was "a delight" and only stopped in the break of one of her songs to try and discard a piece of chewing gum, eventually having to swallow it as no knight in white shining armour would step forward and help her dispose of it (or at least sell it on eBay), not even new head of mobile, the normally gentlemanly Milton Elias.
According to a source though there was a particularly tense moment before the gig was even due to start, when the OMD UK elevator seemed to get stuck between the basement and the ground floor with Rita inside it.
The event organised by Vevo was called Lift, but due to the quality of the performance Bitch will brush over that particular irony.
Special cuddle
This girl would like to flag up a "little" event that is happening today (8 November) at one of her favourite media agencies WPP's Mindshare. The "huddle", Bitch hears, will include around a 1,000 people getting very close indeed in the name of creativity in media.
Luckily this girl knows that the senior management at the agency including supremo Jed Glanvill second lieutenant and Joe Mcelderry-lookalike Mark Crieghton are very tactile so you're all bound to have a good time.
And if you don't fancy a special cuddle with those two, there's always a special guest performance from last year's 'X Factor' winners Little Mix to contend with this girl hears.


Until next week my little talent show wannabes.

Bitch xxx