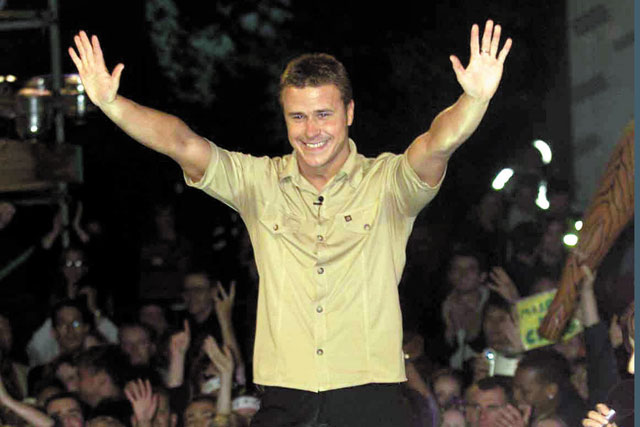 July 2000 ... In a scene not entirely unfamiliar in some parts of London, ten strangers from a variety of different backgrounds gain entry into a house in Bow that they do not own for the launch of Big Brother. Over the next nine weeks, rapt viewers watch the revolutionary TV format unfold on Channel 4. When the contestant Nick Bateman is found to be cheating, Britain descends into a moral panic that tests Tony Blair's leadership abilities.
September 2000 ... The Scouse builder Craig Phillips emerges as the first winner in front of ten million viewers. Now nearly famous, he releases a charity Christmas record, but his subsequent career as a TV handyman sets the tone for what other winners can expect.
May 2001 ... The nation once more huddles around its TV sets and, much to the relief of Channel 4, the show's producer Endemol and the tabloid press, a couple of housemates, Paul Clarke and Helen Adams, begin a romance. Both Brian Dowling, the eventual winner, and a Chelsea FC fan called Bubble briefly leave their mark on the national consciousness.
May 2004 ... By now, Channel 4 is relying on Big Brother to prop up its audience share. In a bid to spice it up, the series is trailed as "Big Brother turns evil". Despite the inclusion of three homosexuals, a transsexual and an asylum seeker, the nation begins to tire of the series.
August 2010 ... As average viewing figures fall to 2.5 million, Channel 4 decides to put the series out of its misery. The winner, Josie Gibson, leaves the Big Brother house to widespread indifference. David Abraham, the Channel 4 chief executive, promises a "creative renewal", while Richard Desmond waits in the wings to buy the format, hoping his midas touch (plus his tabloid ownership) will help to revive the show.
FAST FORWARD ...
August 2012 Desmond's Channel 5 has its second stab at Celebrity Big Brother, the first having ended in some controversy after the gypsy hardman, Paddy Doherty, refused to be evicted from the house, requiring mediation by David Essex. Following Sally Bercow's dignified appearance in 2011, Sarah Ferguson tries her luck to win the prize money, which she assures us will be given to her "favourite charity".