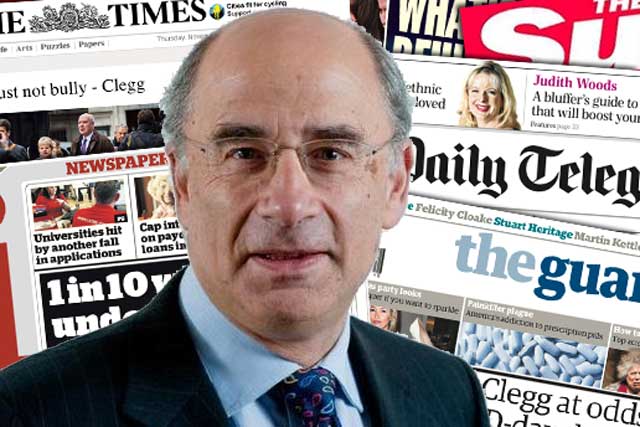 When 63 year old Leveson accepted David Cameron's call in July 2011 to chair a public inquiry with a wide remit to look into claims of phone hacking at News of the World, supposed illicit payments to the police, and the wider culture within the press, he would have expected it to be a high profile job.
Yet nothing could have prepared him for the journey that has led to his 1,988 page report published yesterday (29 November). He has questioned and scrutinised some of the most powerful and influential people in the world of media, and heard emotional accounts from dozens of victims of the press that have been bullied, tormented and spied upon in recent years.
The inquiry included 184 witnesses and 42 written submissions over more than six months of hearings, which were often further dissected on primetime television and across national front pages.
The overwhelming evidence of abuses and malpractice now detailed in Leveson's findings proves that parts of the industry have been reckless and out of control. Few would argue the old system of self-regulation proved to wield sufficient control to warrant public confidence.
Leveson referred to it as "the industry marking its own homework", before proposing a new regulatory body, "which is truly independent of industry leaders and of government and of politicians".
The industry no longer marking its own homework
The challenge was always going to be in establishing a new system that all of the press would adhere to, that would have the power to regulate effectively.
Leveson suggested that a statutory body, such as Ofcom, should take responsibility for monitoring a reimagined Press Complaints Commission, to regain public trust and act as a "backstop regulator". The body would have a new code of standards that the press are expected to abide by, with the power to impose fines of up to £1m for breaches.
He said: "I am proposing regulation organised by the press itself with a statutory process to support press freedom, provide stability and guarantee for the public that this new body is independent and effective."
Clearly aware of the tightrope he was walking, Leveson was at pains to stress his report "cannot reasonably or fairly be characterised as statutory regulation", but it soon was.
It was a conclusion many in the media had been dreading, and many remain unconvinced. The Spectator's editor Fraser Nelson captured the mood earlier in the week when he had suggested, "you can't have a little bit of state control, any more than you can be a little bit pregnant".
Meanwhile, other critics highlighted that despite running to an eye-watering 1,988 pages, there is scant focus on the specific problem of regulating digital journalism or social media in the digital age. Such a blindspot makes Leveson's report "irrelevant" to 21st century journalism, according to media commentator turned director of Columbia's Graduate School of Journalism, Emily Bell.

The future remains far from clear for the British press, with the prime minister immediately expressing concerns about the potential dangers to press freedom such a law-enshrined regulator could mean.
Last night he added further confusion by instructing the department of culture to prepare draft legislation on how statutory underpinning could work, with a view to it being reviewed in the House of Commons. Whether this draft proves it is simply unworkable or achievable remains to be seen, but it will guarantee more political debate on the matter well into the new year.
So, after a protracted, expensive and, at times, deeply embarrassing public spectacle, perhaps one sentiment we can all agree with, was when Leveson announced: "This is the seventh time in less than 70 years that these issues have been addressed. No one can think that it makes any sense to contemplate an eighth."
Initial responses to the Leveson report
David Cameron, prime minister
"The onus should now be on the press to implement the proposals rapidly.
"I have serious concerns and misgivings [about the statutory underpinning]...they break down into issues of principle, practicality and necessity. The issue of principle is that for the first time would have crossed the Rubicon on writing rules of press regulation into the law of the land.
"We should, I believe, be wary of any legislation that has the potential to infringe free speech and a free press. On the grounds of practicality...the legislation required to underpin the regulatory body would, I believe, become more complicated...the danger is that this would create a vehicle for politicians, whether today or some time in the future, to impose regulation and obligations on the press".
"I'm not convinced at this stage that statute is necessary to achieve Lord Justice Leveson's objectives. There may be an alternative options for putting in place incentives, providing reassurance to the public and ensuring the Leveson principles of regulation are put in place and these options should be explored."
The Times
"Lord Justice Leveson's inquiry ... must be regarded as a success. In his response, David Cameron showed courage and principle.
"The Leveson Report accompanies its voluntary scheme of regulation with a proposal for legislation that was politically hard to resist... Mr Cameron did not accept this and he was right not to.
"The independent regulation that the report advances does not require statutory underpinning."
The Guardian
"There are many good things about Leveson's ideas. The new regulator would be tough, independent, and durable. But a 2,000-page report is bound to provoke questions. Is Ofcom really the right body to be involved in all, or any, of these roles?
"Can any system be both voluntary and still have compulsion? While statutory underpinning may be necessary to achieve the carrots and sticks needed to make the system work, there are reasons to be nervous about what's in the proposed statute."
The Independent
"One of Lord Justice Leveson's arguments was that only a statutory element would guarantee public confidence in any new watchdog. That does not have to be so. It is by its operation, not its legislative underpinning, that it would be judged.
"And there was considerable irony yesterday in the fact that this position was defended most forcefully by none other than the prime Minister - the very person who had set up the inquiry and was on record as committed to acting on its recommendations unless they were, in his word, 'bonkers'."
Lord Black of Brentwood, executive director, Telegraph Media Group
"Lord Justice Leveson has issued a challenge to the press to establish a new, tough system of regulation. I believe that the plan that the industry has put forward goes a long way to meeting that challenge. In those areas where the report expressed concern, such as independence and appointments procedures, we will study his proposals and I believe respond positively.
"However, there is no need to subject the new regulatory to the statutory regime of Ofcom in order to achieve this. Any form of statutory press control in a free society is fraught with danger, totally impractical and would take far too long too implement."
Financial Times
"The functions of the new regulator would have to be enshrined in statute, with some entity given the power to oversee the mechanism. In this case, Lord Justice Leveson recommends considering Ofcom, the broadcast regulator, for this role.
"The sweetener, at least in the judge's view, would be recognition in the new law that the government has a duty to promote press freedom. The Financial Times has reservations about this approach. While there may be merit in a grand bargain that trades the incentives to participate for some measure of statutory underpinning, the idea of handing oversight power to Ofcom is wrong-headed.
"Ofcom is charged with regulating television broadcasters that have a legal obligation to impartiality. It reports directly to government. This is a step down the road towards state licensing of a press that, of course, has no obligation to provide balance."
"Lord Justice Leveson has tried to be fair and keep his patience, while tackling issues over which passions have run inevitably high ... Despite all this, we have the gravest reservations about some of Sir Brian's recommendations."
Daily Mail
"Lord Justice Leveson has tried to be fair and keep his patience, while tackling issues over which passions have run inevitably high ...
"Despite all this, we have the gravest reservations about some of Sir Brian's recommendations. Repeatedly, he has said he is not proposing statutory regulation, but merely a body underpinned by statute.
"This is just playing with words. For the new regulator would depend on recognition from Ofcom, whose chairman is appointed by the government."
Paul Ashford, group editorial director, Northern & Shell, publisher of the Daily Express and Daily Star
"Lord Justice Leveson has made some tough recommendations which represent a positive step forward towards effective newspaper self-regulation.
"We take our part in that very seriously and we will be participating with the industry to make this work."
Daily Mirror

"Nobody in their right mind would defend the status quo and we have long proposed and supported moves for tougher regulation of newspapers.
"Yet we believe firmly that a free press is a principle worth fighting for, a democratic Rubicon that mustn't be crossed in Britain.
"Leveson recommends statutory control should rest with Ofcom. But Ofcom reports to the culture secretary, Maria Miller, which means that ultimate control for the regulation of the press rests with a minister. This is not a free press."
The Sun
"Much of Lord Leveson's report on the Press makes sense ... We see no reason why many initiatives, particuarly helping complainants, cannot be introduced very quickly ...
"But we are deeply alarmed by his main proposal for new legislation that could bring in State control of newspapers."
"As a company we are keen to play our full part, with others in our industry, in creating a new body that commands the confidence of the public. We believe that this can be achieved without statutory regulation – and welcome the prime minister's rejection of that proposal."
Tom Mockridge, CEO, News International
"We accept that a new system should be independent, have a standards code, a means of resolving disputes, the power to demand prominent apologies and the ability to levy heavy fines.
"We have spent 18 months reflecting upon these issues and are determined to move on as soon as possible with others in our sector to set up a new body that will ensure British journalism is both responsible and robust."
Fraser Nelson, editor, The Spectator
"I do believe that David Cameron has just pledged to protect press freedom – and, in effect, reject the most illiberal proposals of today's Leveson Report. He has asked the media to reform itself, and radically. He accepts the principles of the report and asks the media to 'implement them, and implement them radically'. But he asks. He doesn't want to tell. And he draws a very important distinction between the two: parliament hasn't told the press what to do since 1695 and Cameron doesn't want to start now...
"This is a defining moment for the Prime Minister, invoking ancient liberties to give a calm, eloquent and robust defence of freedom of speech. I hope those 42 pro-regulation Tory MPs were in the chamber listening to him: this is politics at its boldest and best."
Hacked off
"The judge had rightly condemned this outrageous conduct of the press in the recent years…The crucial point is the importance he places on the complete independence of regulation from politicians and from the editors and proprietors, who run the wholly discredited Press Complaints Commission…
"The prime minister has not done his job, his failure to accept the full recommendations of the report is regrettable."
Rufus Olins, CEO, Newsworks
"We welcome Lord Justice Leveson's report, but the important debate about how it will work will continue for some time yet. What remains critical is that we do not shackle our industry and leave it unable to do its job. We are a vital part of a vibrant democracy with a duty to call the powerful to account.
"In some ways it is a very narrow report dealing as it does with 'national press' when our industry runs newsbrands which operate on tablets, phones and laptops as well as pressed dead trees. There are thousands of sources online and on twitter offering opinions and breaking news.
"How does this report tackle that? It is an unavoidable fact that today's newspaper industry operates and competes in the digital world – and that will only become more so."
John Whittingdale, Conservative MP and chair of the Culture, Media and Sport Select Committee
"There is almost universal agreement on the need for a strong regulator.
"The question of whether it should have statutory underpinning is something that Parliament should consider carefully."
Ed Miliband, Labour leader
"We should and we can move forward together wholeheartedly now, we've had 70 years, seven reports, which have gone nowhere, now is the time to act."
Nick Clegg, deputy prime minister
"Changing the law is the only way to give us all the assurance that the new regulator isn't just independent for a few months or years, but is independent for good."
Adrian Jeakings, president, Newspaper Society and CEO of Archant
"Local newspapers have always been vehemently opposed to any form of statutory involvement or underpinning in the regulation of the press, including the oversight by Ofcom proposed in the report.
"This would impose an unacceptable regulatory burden on the industry, potentially inhibiting freedom of speech and the freedom to publish.
"We believe the industry is in a position to establish the sort of tough new system of independent, accountable press regulation with the power to investigate wrongdoing and levy fines, envisaged by the report."
Alistair Campbell, strategist and former Labour adviser
"David Cameron is saying a pretty large 'no'/'question mark' to pretty much the most important proposal in the whole report...
"He's essentially saying have another go in the last-chance saloon."
Reporters: Arif Durrani, Daniel Farey-Jones, John Reynolds and Maisie McCabe