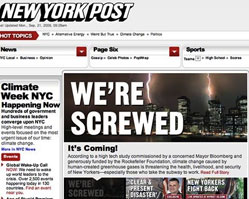 The irreverent US tabloid today carries a report, headlined "Sorrell comes up short", about WPP's law suit against Spot Runner for allegedly selling stock without telling other shareholders.
The report details how a Californian court has granted Spot Runner's motion to dismiss the suit but gave WPP permission to file an amended claim. WPP has announced its intention to do so.
The article describes Sir Martin Sorrell's "legal vendetta" against Spot Runner. WPP, which owns three percent of Spot Runner, sued the firm in April, claiming the two founders and other investors sold $54 million in stock without revealing the sales to other shareholders.
The New York Post points out that WPP is targeting that is "struggling". Spot Runner had revenues of $9 million last year after losing $45 million, the legal suit says. WPP has invested $10 million in the firm, which launched on a promise to make ad spots affordable for smaller advertisers.