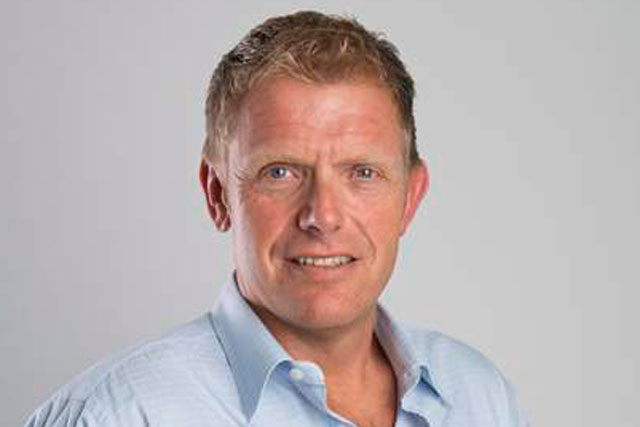 Monday
Monday morning kicks off with our weekly sales team meeting. We get the whole floor together to discuss what fantastic deals have been signed, what opportunities there still are and plan together for the week ahead.
As official broadcasters of the World Cup and the tournament fast approaching we've still got a couple of deals to tie up but start the week with the news that The Times has signed up as our press partner for the tournament.
We've worked really closely with The Sun for the past football season but it's great to have The Times on board as well and illustrates our ABC1 nature.
Monday lunchtimes normally means a trip to the gym for my spin class, but I forgo this today after taking part in the Chiltern 100 110km bike ride at the weekend.
It wasn't the best plan to ride for only the second time with bike cleats and I end up with some major scars from two crashes - mainly my pride. I make it, but give spin a miss for once.
I spend the afternoon with Andy Murray in action in the French Open on my tv accompanied by TalkSport on my radio as I work on plans for Q3.
With the World Cup this summer, it's easy to assume that our whole year is built around that and, while it's obviously the biggest sports event on the planet, Q3 is also going to be key for us with all kinds of sport going on including the Tour de France, British Grand Prix and the Commonwealth Games.
The day ends in the best way possible – reading 'Charlie and the Chocolate Factory' with my six year old son. We've just got to the bit where Augustus Gloop gets sucked up the pipe.
Tuesday
At the physio's at 8am in a bid to sort out my post-cycling leg. I have a feeling this might be an ongoing theme throughout the week.
I berate myself for spending £20 and half an hour in traffic on a cab instead of jumping on the tube in half the time and for a tenth of the cost, but made it just in time from TalkSport's offices on the Southbank to a meeting at Carat.
We're meeting with the team there to discuss our partnership with Wickes, who we've worked with for the past four years. They sponsor 'The Colin Murray Show' and it's a fantastic creative partnership – just a couple of weeks ago we broadcast live from a Wickes store, with Olympic decathlete Daley Thompson taking part in a long jump into Wickes's sand.
The meeting is followed by a good catch up over a bowl of pasta with Mike McCoy from Aegis where we discuss some ideas around our partnerships and content deals.
Back in the office this afternoon we announce on-air that TalkSport will be the exclusive radio broadcasters of the Chisora v Fury fight on 26 July.
I loved watching the Froch fight at the weekend, and more exclusive sport for the station is fantastic news, particularly as it comes after the World Cup.
Wednesday
It's appraisal week so a lot of today is spent with my managers talking through their aims, expectations and goals for the next six months. Yesterday marked my first year at TalkSport and I truly feel like I've got the right team in place now, although I have asked my MD Calum Macaulay where my anniversary cake is.
I spend some time today planning for my trip to Brazil during the World Cup. We're taking a group of clients out to Sao Paulo for the England match and I'm really looking forward to it.
One of my team had been to the Brazilian embassy today and picked up loads of great maps, guide books and leaflets and we're sending everyone who's coming with us a goody bag full of things to get them really excited for their visit.
At the end of the day I find myself in possession of a state of the art barbeque from B&Q. Last Saturday our breakfast show hosted a barbeque live on air in partnership with B&Q. It was a fantastic example of how we can use branded content on-air to push a brand's key messages but we were left with a gas barbeque afterwards.
With B&Q's permission I make a donation to Prostate Cancer UK, TalkSport's official charity, and am looking forward to some outdoor cooking this summer.
Thursday
The big news today is that we welcome Sky as TalkSport's final World Cup partner. We've had a really long and strong relationship with Sky and they're brilliant at turning round creative content.
Sky joins Budweiser, Vauxhall, Sony, Jewson and SportsYapper as our six category exclusive sponsors for the tournament and it puts us in the best possible position ahead of kick off in just a week's time.
I spent a decent amount of time today looking at draft entries for the Media Week awards. We've got some great campaigns to enter across a variety of categories and reading through them all made me realise how much work my team have put in over the last year.
Finish the day sharing a beer with Mark Jarvis from 7Stars who look after Coral, our betting partner on the 'Alan Brazil Sports Breakfast'. But we don't just talk shop as we have a Haut route trip planned for early next year – a seven day ski tour through the Alps, staying in huts and carrying all our supplies on skis. I can't wait.
Friday
The office is a bit quieter today as six of the TalkSport team, plus presenter Perry Groves, have set off on a 150-mile bike ride to Amsterdam.
They're raising money for Prostate Cancer UK so I keep track of them on social media, and Perry's updates on-air and reassure myself they are all ok.
Lunchtime is spent at a lovely restaurant on Chiswick High Road with the team from Sky, who are our biggest spending client, looking ahead to the World Cup.
I can't believe that, after months of planning, in a week's time the tournament will have kicked off and we'll be looking forward to the Three Lions' first match.
Back in the office I tidy a few pieces of work and admin up ahead of the weekend and end my week trying to work out how to get the B&Q barbeque home to Hertfordshire.

Age: 47
Favourite media: Sky+ and 1089/1053AM of course
My biggest inspiration: My Dad
Dream job: Getting to talk about sport all day…lucky me
Not a lot of people know this about me: I qualified to play at the Junior Hertfordshire doubles finals at the Queen's club in 1982...I lasted one round