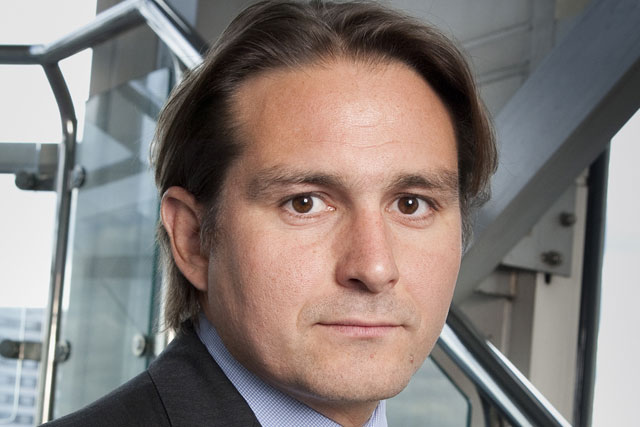 Sunday
Unusually, this working week starts on Sunday evening as I need to be in Paris for an early morning meeting on Monday.
So, after a week of sunshine in Abu Dhabi with the family during half-term, it's off to Heathrow in the snow at 6pm. Boarding pass downloaded onto the smartphone via the BA app and into Terminal 5, where I meet Julie France (MD, JCDecaux Airport), Spencer Berwin (MD, sales, JCDecaux) and Dave McEvoy (marketing director, JCDecaux) who are also on the flight.
OOH combined with smartphone and tablet technology is a very exciting development in our industry. All the ingredients are there to do something truly amazing, it's just a question of finding the right recipe to make it all work together.
Travelling without kids allows me to really appreciate the amazing campaigns we're carrying in the airport.
Monday
For the first time in weeks, it's a full night's sleep without being woken up by one of the boys. A relatively recent convert to e-newspapers (why did I resist so long?), I download The Times onto the iPad and digest over a quick breakfast before jumping in a taxi to the JCDecaux Neuilly office in Paris.
Representatives from the four corners of the earth are in town for our international digital strategy meeting. The session is chaired by Eric Penot, JCDecaux's director of digital media and we compare notes on what works best in our respective markets. I love the new 40m2 HD LED that's just gone into Pudong with Porsche creative.
Once the session is complete, it's back into a taxi to the airport where the slow-moving traffic allows me to take in the various neon and wrap adverts on the Paris Peripherique.
Back home in time to put the kids to bed and catch up on the latest episode of 'Suits' on Tivo. It's very rare I get the chance to watch live TV apart from sport (if I'm lucky), so adverts tend to get zapped. Sponsored bumpers such as Bombardier for 'Suits' work for me as they are the cue as to when to press play again.
Tuesday
Normal service resumes with middle child (Emile) climbing into our bed at 4.30am. Then 90 minutes later, it'' onto the motorbike to head into the office. Even with the winter we've had this year, it still beats a commute on the Tube. A new in-charge means plenty of questions to the sales team to make sure we're on top of business.
A quick stop in the office to clear a few of the emails that have stacked up while I was away, before making my way down to the Curzon Mayfair for the launch of Route.
The great and good of the industry are in attendance as outdoor advertising's research body Postar relaunches as Route. I have a quick chat with Fiona Fitzgibbon from Cheil and apologise for having to cancel our lunch recently, before heading in to hear how Route will provide OOH with a CPM metric for the first time. "Hellos" and "catch up soons" to Nick Madison of 7Stars, Nick Jarman of Talon on the way out, and then an afternoon in the office clearing my to-do list.
Wednesday
Today sees the launch of our latest piece of proprietary research, 'Power of Influence', which looks at why the airport audience is so important to brands.
Bruce Daisley of Twitter and Justin Gibbons from Arena introduce the concept of influence to more than 100 guests before Steve Cox, marketing director of JCDecaux Airport, wraps up proceedings, concluding that airports provide a disproportionally influential audience for brands to spread their message.
Amongst the many attendees, I get the chance to catch up with Peter Thompson whom I haven't seen since he left for the US a couple of years ago (now recently returned), Andrew Kelly and Marc Gutreich from Open, as well as Robin Hall, deputy MD of PSI.
A monthly update with Heathrow's media team headed by Nick Webb in the afternoon, before a quick drink after work. A scan of the London Evening Standard on the train to Hinchley Wood, while sitting in a fug of Burger King smells – I'm starving.
Thursday
Is it really only Thursday? The Times gets my full attention on the train into work.
I sit in on the 'Power of Influence' training session with the team. It's a complex presentation, so we have been investing a great deal of time and energy ensuring the sales team fully understand how to present it effectively when they'll be out at agencies next week.
After a working lunch at my desk, I have a monthly meeting with Michael Walker from Heathrow Express in the afternoon where we discuss their advertising plans for 2013 and how we're performing.
This evening it's the third industry event of the week with the OMC's Hall of Fame awards. It's a great chance to catch up with those folks I didn't get to see on Tuesday and Wednesday, before going straight to a game of squash (my one effort at healthy living this week).
Friday
I need to do more exercise. Having not played squash for a couple of weeks, the exertion is playing havoc with my body – just getting on the bike is an effort today. Roll on the better weather so I can swap squash racquet for golf clubs.
Friday is closing day. The morning is spent ensuring the team get the business over the line. A quick catch up with Julie France, MD, to give her an update on the week and prospects going forward, as well as discussing some of the outstanding actions that need covering off over the course of the next couple of weeks.
A good week on business allows me to have a relaxed lunch with Xavier Dupré, MD of JCDecaux OneWorld.
Back home on time and start counting down the minutes until the kids go to bed, so I can share a glass of wine with my wife and receive my orders for the weekend.
Personal CV
Age: Still the right side of 40, for a couple more months
Favourite media: Airport advertising of course, closely followed by Tivo and Fiipboard
My biggest inspiration: Used to be Lance Armstrong!
Dream job: Successful professional golfer
Not a lot of people know this about me... I can count to 10 in Urdu