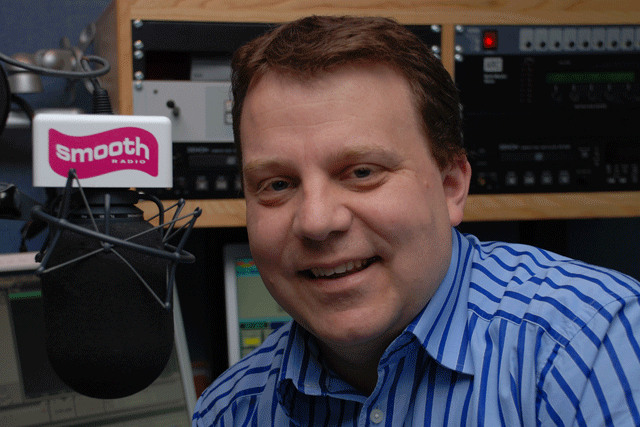 Monday
6am and the phone alarm merges into the sound of Real Radio's breakfast team telling me it's raining. My usual race to get to the office in Salford Quays is on hold. It's my son's first day at school. He's nearly five and finally concedes to wearing the uniform – although as he gets into the car I notice he still has his bright red 'Cars 2' slippers on his feet. Fortunately, mummy has the black shoes in hand
So a slightly delayed start to the working day and as I drive past Old Trafford, I notice the Olympic flags are gone, replaced instead with giant banners showing Sir Alex Ferguson holding the Premiership trophy aloft.
Monday is my office day, something I've tried to do since our acquisition by Global Radio, as it's a chance to shape the week with my team – based here and at our radio stations around the UK – via web conference. We are in a "hold separate" period while Ofcom and the competition authorities prepare reports for the secretary of state on the impact of our takeover, so it's business as normal and our teams are performing incredibly well.
After an update on plans for our group-wide Help for Heroes fundraising event on 28 September, I'm meeting with our HR director. Our people are our most valuable asset and we're about to launch a new development programme to support the growth of next-generation managers within our business.
Memorable phone call of the day was around 3.30pm – my son's first day at school was okay and he'll give it another go tomorrow.
Tuesday
5.45am. I've a train to catch to Glasgow. I use the Wi-Fi to listen online to Real Radio in Scotland. Ewen Cameron's regular co-host is on holiday, so Scottish singer and songwriter Amy Macdonald has joined him.
Real Radio is Scotland's biggest commercial station and every taxi driver has an opinion on every song we play. As I head to the station, I'm reminded of the impact our brands have on the lives of our listeners. Mick (my taxi driver) proceeds to sing a number of ad jingles – occasionally in tune.
I meet with our MD in Scotland, Gavin Bruce, who's working on a really innovative project with the Scottish government to make sure radio wins its fair share of marketing spend against TV. I also take a look at our brief for Tourism Ireland. Our Smooth team is flying to Dublin and Belfast to pull together content and produce a number of OBs for the promotion, so it's a crucial stage of planning.
Wednesday
I wake up in a Newcastle hotel to the sounds of Smooth Radio. Simon Bates is on breakfast and 'Our Tune' is on in just a few minutes and the legendary 'golden hour' just after 9am. I've heard many other presenters try their best to deliver this iconic start to the work day, but Bates is the true master with his catchphrase, "but what was the year?"
I'm in the North-East for a regional management meeting with the management team and it's a chance to meet with the sales guys, as they pioneer a new commercial programme designed to deliver branding opportunities and bring some traditional regional press advertisers to radio.
Since moving into "hold separate", the one additional diary item is the weekly compliance paperwork. Our monitoring trustee, appointed by the OFT, is keen to ensure that we are continuing to operate by the terms of our undertakings, so there are forms to sign once I've talked to colleagues.
Thursday
My wife's a morning TV fan and she keeps telling me 'Daybreak' is changing next week. I'm comforted that she knows that, because she heard the ad with Aled and Lorraine on Smooth Radio.
I'm back at Salford Quays today, filming an introduction to an internal programme we are launching in a few weeks. We start at 7.30am and I'm interviewing a sports physiologist who's recently coached some top sports coaches. He tells me about how the brain is programmed to anticipate change.
At lunchtime, I'm with our North-West sales director, Alison Tootill, for a client lunch on the piazza at MediaCity. There's a presenter from CBeebies sitting on the table next to us – my son would know who he is.
Confirmation comes from our regional head of sponsorships that ATS Euromaster is to become sponsor of Smooth Drivetime with David Jensen from mid-September. Great news and we've some innovative content designed to give them standout to motorists on the way home.
Friday
Holidays are over, but for me today, it's a familiar trip up the M6 for the annual switch-on of the world-famous Blackpool Illuminations, which launched 100 years ago this year, initially as a marketing initiative to extend the holiday season into autumn.
This is our third year as hosts of the event, which we won from the BBC in 2009. We're staging a free concert for 20,000 people on the seafront with 15 top performing artistes, and Jet2, the low-cost airline, are sponsors, so we've double the need to deliver client and audience expectations.
The big switch-is being done by six Olympic gold medallists at 9.15pm tonight. Ahead of that, we're treated to two hours of live music from the likes of Scouting for Girls, Paloma Faith, the Noisettes and my personal favourite, 1980s legend Rick Astley.
I walk along the promenade just as it's getting dark – 20,000 people in the arena are joined by a further 100,000 on the seafront watching on big screens, while many hundreds of thousands listen live on our stations around the UK. Great to see Team GB's Olympic success celebrated in the most British of settings.