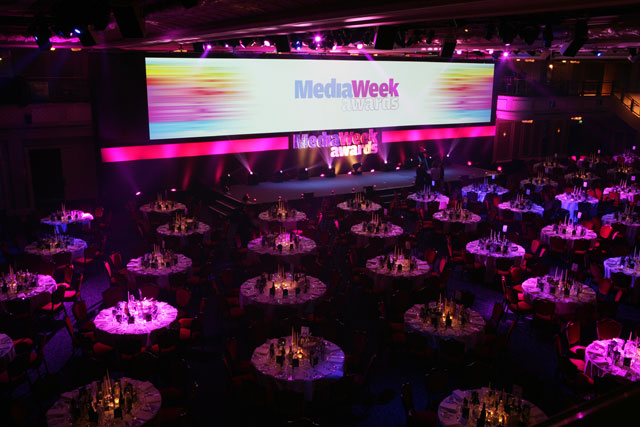 The annual event takes place at the Grosvenor House Hotel in London on 27 October (next Thursday) and recognises the talent within media, from media owners and media agencies.
This year also saw a 30% rise in entries, with some of the most impressive media work of the year examined by a team of more than 40 industry leaders from the world of media.
The judging panels were co-chaired by Dominic Carter, commercial director at News international, and Lindsay Pattison, chief executive of WPP agency Maxus.
The event will also include the first time two Rising Star Awards in recognition of upcoming talent from both media owners and media agencies, and will also feature an expanded research category to reflect the increasing role research and data plays in the media mix.
The shortlist for the prestigious Sales Team of the Year award includes digital music platform Spotify; out-of-home specialists Clear Channel and JCDecaux; newspaper publisher the Evening Standard, and radio network Global Radio.
Competing for Agency of the Year are WPP agencies MediaCom and MEC; Omnicom agencies PHD and Manning Gottlieb OMD, and Aegis agency Vizeum.
Other awards categories include Media Brand of the Year; International Campaign; Media Innovation; an expanded research category and, for the first time, a separate Rising Star award to recognise upcoming talent in both media owners and media agencies.
The list of those attending the event is set to be a who's who of media and is an ideal time to network with your peers.
The full shortlists for the awards are:
Agency categories:
International campaign
Manning Gottlieb OMD for Nissan/PlayStation
MEC International for Visa
MEC International for Xerox
MediaCom for Pantene
MediaCom for Pringles
MediaCom for Nikon
Media idea - launch
Arena Media for ESPN
Carat for Nivea
MEC UK for Transport for London
MediaCom for Polydor, Universal Music
OMD UK for Citroen
Media idea - long-term large
Manning Gottlieb OMD for Waitrose
Maxus for BT
MediaCom for Mars Galaxy
MediaCom for T-Mobile
OMD UK for PepsiCo
PHD for Sainsbury's
UM London for Microsoft
Media idea - long-term medium
Carat for Playhouse Disney
Manning Gottlieb OMD for Nissan/Sony PlayStation
MediaCom for Mars Maltesers
PHD for Sainsbury's
PHD for British Heart Foundation
ZenithOptimedia for Toyota Prius
Media idea - long-term small
Manning Gottlieb OMD for Mitsubishi
Maxus for Triumph
Maxus for Fiat
MediaCom for T-Mobile
PHD for LBC
ZenithOptimedia for L'Oreal
Media idea - relaunch
MediaCom for Merlin - Alton Towers
MediaCom for Piriton
MediaCom for Mars Bitesize
MediaCom for Lucozade
MPG Media Contacts for East Coast
OMD UK for McDonald's
Media owner categories:
Media brand of the year
BBC Magazines- Top Gear
BBC Worldwide – Good Food
Discovery Channel
Global Radio – Capital FM
Ocean Outdoor
Sky News
TalkSport
YouTube
Media idea - launch
BBC Magazines for Good Food iPad app
ChannelFlip Media for Regaine
The Independent for i
Global Radio for Cadbury
ITV for Yeo Valley
JCDecaux for The Rail Environment
Media idea - long-term large
Bauer Media for BlackBerry
CNBC for Credit Suisse
Global Radio for NS&I
Google UK for LG
Sky Media for Microsoft
Sky Media for Unilever
Media idea - long-term medium
Absolute Radio for Sony Ericsson
Bauer Media for Wella
Global Radio for Rimmel
Global Radio for Coors Light
GMG Radio for Honda
Guardian News and Media for Christian Aid
Telegraph Media Group for Morrisons
Media idea - long-term small
Global Radio for RSA
Global Radio for Volkswagen
Mirror Group Newspapers for Shell
Ocean Outdoor for Hello!
Sky Media for P&G
Telegraph Media Group for St Kitts and British Airways
Media idea - relaunch
Global Radio for ASOS.com
Global Radio and Telegraph Group for Towry
Telegraph Media Group for Sainsbury's
Categories open to owners and agencies:
Large collaboration (budget over £250K)
Channel 4 for L'Oreal UK
MEC UK for Specsavers
MEC UK and Telegraph Media Group for Nintendo DS
Mindshare Media (UK) for Nike
Starcom MediaVest Group London for Autoglass
Telegraph Media Group and OMD for Boots
Media creativity
Manning Gottlieb OMD for Mitsubishi
MediaCom for Cancer Research UK
MediaCom for Mars Galaxy
MPG Media Contacts for Clarks
Naked Communications for Foster's
Starcom MediaVest Group London for RIM - BlackBerry
Vizeum UK for Chris Langley
Media innovation
Google UK for YouTube
OMD UK for PepsiCo
OMD UK for Coty
UM London for Xbox 360
UTV Media for Templeton Robinson
Small collaboration (budget under £250k)
Carat for Nivea
MEC UK and Telegraph Media Group for The Famous Grouse
MediaCom for Universal Music
PHD for LBC
PHD and Telegraph Media Group for Sainsbury's
Starcom MediaVest Group London for Heineken
Research insight
Bauer Media
Carat for Diageo
Guardian News and Media for First Direct
Kinetic Worldwide
MediaCom for Metropolitan Police
MediaCom for Direct Line Pet Insurance
PHD for McCain
UM London for Microsoft
Data innovation
Carat for British Gas
Google UK for Vodafone
MEC UK for Various Clients
MediaCom for Electronic Arts
MediaCom for Universal Music
ZenithOptimedia for O2
Econometrics
MediaCom for Direct Line Car Insurance
MediaCom for E.ON
MediaCom for Wrigley's Skittles
MPG Media Contacts for Admiral
MPG Media Contacts for Camelot
Rising star - agency
Mark Brennan, MEC
DuBose Cole, Mindshare
Laura Flewitt, Mindshare
Mark Halliday, Manning Gottlieb OMD
Tracy Roberts, Mindshare
Nicola Sinclair, Mindshare
David Towers, MEC
Rising star - media owner
Alex Baker, Bauer Media
Emily French Blake, Spotify
Steve Hawker, Primesight
Mark Kaye, Eye
Paul Lowrey, DCM
Lauren Wing, BBC Magazines
For a range of sponsorship opportunities surrounding the awards please contact Chloe Lambert