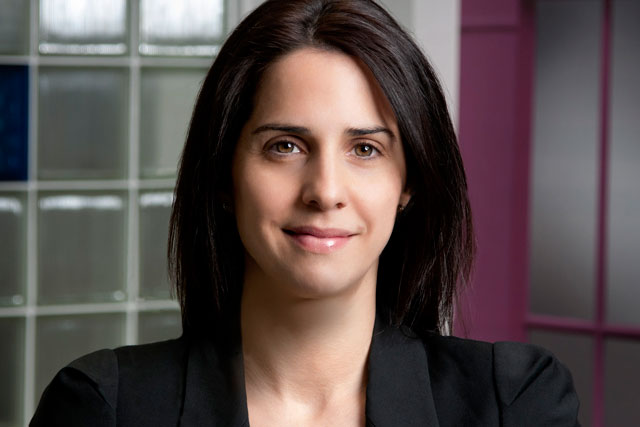 Monday
It's going to be a big week. My husband Amir is in Singapore on business which means I'm mum and dad for our two-year-old, Arianna, for the next five days.
Monday starts off with a client meeting with one of our key agency partners, par for the course in this industry.
Lunch is a quick bite to eat with a colleague near our O2 Media office in Ganton Street, followed by a sales meeting straight afterwards.
My afternoon finishes a bit earlier than normal as I have to rush off for Arianna's quarterly check-up at the doctors. Thankfully everything is OK.
As my husband is away this week the evening is spent getting Arianna ready for bed, doing bedtime stories and getting full control of the TV. I've got to admit, it's nice to have some quality time to myself, but I'm already counting down the days until he gets back.
Tuesday
I catch up with the news on the Tube, then grab a coffee on the way to my first meeting. Everybody who knows me knows that my day doesn't officially start until I've had a soya mocha. These things are very important.
The morning is spent in meetings to discuss internal processes and how we can work better across the wider company.
That's one of the noticeable differences about working in a corporate versus agency environment. But it's important to make sure we're all working together in the right way.
I'm a guest speaker at the Mobile Media Strategies 2012 conference today. I've done a few speaker slots this year and it's always nice to get up and talk about campaigns that you and your team have delivered and listen to what everyone else is doing in the industry.
One of the things I tell my team is you can't be so inward facing as a business. You've got to look at what's going on outside your own front door. Otherwise how do you know if you're truly differentiating in the market?
I speak about the importance of using advertising to enhance the relationship with our customers - not using it to sell them "stuff" we think they need. It's a good opportunity to make some new contacts too. Networking is such an important skill in this industry.
Wednesday
Breakfast is with a client at Nopi - one of my favourite places in Soho. We chat about the latest trends in mobile advertising and the potential opportunities to work together in the future.
Anyone from a sales background understands the importance of good relationships. I learned this from my previous role at Mindshare, and it's stood me in good stead at O2.
Being MD of O2 Media is great fun, very challenging and it comes with a great deal of responsibility, not just for P&L (profit & loss), but for the people too. So, I spend a big proportion of the day doing one-to-ones with my team.
We're going through lots of change at the moment so it's important that I keep checking in to see how they're feeling and how I can support them in their development.
The rest of the day is spent trying to stay on top of my emails, which can sometimes feel like a never ending task. Thankfully I've got a great PA in Rebekah who helps to lighten the load. I don't know what I'd do without her sometimes.
Next up is a review meeting with one of our key clients. We talk about some of the campaigns we've run over the past few months and how they've worked – as well as what we could do differently in the future.
My journey home is spent writing "to do lists" on the tube. If you're a working mother and you've seen the film 'I Don't Know How She Does It' starring Sarah Jessica Parker, you'll understand the importance of writing lists to keep on top of things. It's essential.
Thursday
Thursday is spent finishing off the one-to-ones with my team that I didn't get round to yesterday.
Today's focal point is a meeting on our media strategy for 2013. The mobile advertising landscape has changed so much over the past couple of years with new and innovative ways to target customers.
For example, we can now use thermal proximity messaging to target specific groups of customers when the temperature hits a certain point. And we've got some really ambitious plans for the future in terms of how we continue to connect customers with the brands they love.
Later on I meet with our marketing team to discuss our customer base. We've got over 10 million customers opted in to our O2 More service, connecting them with personalised and relevant offers and experiences from the brands they want to hear from. And by working closely with our marketing team, we ensure our campaigns are always targeting the right people in the right way. It's a team effort.
Arianna safely in bed, I catch up with a load of TV that I've recorded over the past week. I'm slightly embarrassed to admit I've got into the new series of 'Dallas'. What can I say, it reminds me of my childhood when I used to watch it at gran's house.
Friday
I leave the house extra early to drop Arianna at nursery as my nanny is away. She's looking forward to seeing her daddy tonight, I can tell. So am I.
First meeting of the day is with HR to catch up on how the team is doing. Yet another advantage of working for a corporate is that you feel like you've got that level of support if you need it.
Excellent lunch with a client at Nokia who has become a really good friend over the years. We talk work and have a good gossip about what's happening in our personal lives.
The rest of the afternoon flies by and after picking up Arianna and getting dinner sorted (with a bit of help from the mother-in-law), I pour a big glass of sauvignon blanc to celebrate surviving the week, just in time for my husband to return to take on his share of the parental responsibilities. Hallelujah.

Roll on the weekend, when we won't be doing too much except to start packing for our holidays to the States in a couple of weeks. I just hope the weather is better than here.