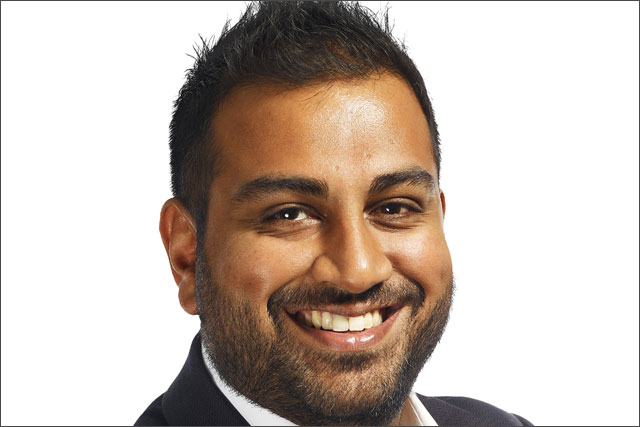 Monday
At my desk by 7.45am and Skype Bangkok for my weekly catch-up with our Thai publishing partner for an update on ad sales and prospects for our third set of Thai-language MagBooks. Good news is that Heineken are interested in sponsoring one of the upcoming titles. I'm going to drink one tonight. The rest of the morning is spent with my London advertising and editorial teams, planning the week's business.
Just before lunch, I doorstep CEO James Tye to update him on my recent business trip to China. However, it soon becomes a walk-and-talk, as we grab our coats and head for the nearby Soho Wine Supply to get our hands on a Latour Sauterne and a Lafite (James knows about these things) as a gift for our rather prolific licensing director Ian Bedwell – a man who participates in Ironman events for fun and just reached a milestone age that he wouldn't appreciate me disclosing here: 50.
Board meeting in the afternoon to define the mission and accompanying strategy of our restructured Dennis Enterprise division, led by PR director Jerina Hardy. Conclusion: to add value to the future growth of Dennis Publishing, by creating opportunity and investing outside of traditional revenue streams.
Tuesday
8.30am meeting with human dynamo Jon Kitchen who heads up adnostic, our newly launched creative digital production agency, to discuss new business, prospects and budgets.
I hug him out of my office and catch up with Jamie White in HR to flesh out a job description for recruiting a part-time financial assistant who will manage the growing MagBook revenue and analyse the multichannel sales data, among other things.
Back to my desk to call Craft, the hugely talented creative agency we're using to help us to sharpen up our branding on MagBooks and bring some cohesion to their appearance. We discuss tweaks to the templates. I have to admit it's been a long and challenging process finding a catch-all solution for such a wide variety of content, but we're getting there.
It's pancake day! Do I give a toss? Ha ha. Of course. However, it quickly becomes apparent that my three-year-old daughter Eva sees the art of pancake making as a pathetic sideshow to the altogether more important task in front of her – how to get a whole jar of Nutella on to one pancake.
Wednesday
I call Singapore to chase up sales figures for MagBooks at Changi airport where we have an exclusive deal. We go on to discuss covermounting options for MagBooks in 2013. This is followed swiftly by a call to South Africa to thank our distributor for securing some retail space at a well-negotiated rate and to see what other promotional opportunities are available.
My weekly catch-up with the licensing and syndication team is lively to say the least, as we confirm new brand licence deals for Evo in Australia, Octane in Japan and Cyclist in Australia. We're also finalising our entries for Consumer Magazine of the Year.
The latest MagBook sales figures show that our Samsung Galaxy title has pretty much sold out within six weeks on sale. After 90 minutes, the spreadsheets hurt my eyes, so I put in a call to Danny Poulter – brother of golfer Ian – who is in Dubai working on the photoshoot for our exciting new PGA-endorsed Golf MagBook. The contact sheets come through and the night shots actually look as though they were taken on a different planet.
The Men's Fitness team has some low-calorie snacks on trial – not too bad initially, but it soon transpires that they are the most anti-social crisps I've ever eaten. A double dose of Wrigley's Extra rescues the situation before my next meeting with management accounts.
Thursday
There's a sense of nerves and excitement in the building today as the PPA's ABC results are published – the first-ever combined print and digital circulation chart for UK magazine brands – and despite the challenges of modern-day publishing, there are some great stories across the industry, particularly in the children's sector. At Dennis, a number of titles report encouraging rises, including The Week, which sees an amazing 29th consecutive increase.
11am and we have Getty Images over to assess our picture and video library. They seem impressed with the quality. The challenge will be to extract the content without losing the metadata.
Ding ding! 12 noon and it's all aboard Auto Express editor-in-chief Steve Fowler's 'battle bus' (SEAT Alhambra) for the drive to Land Rover in Coventry. Joining us on board we have art director Ash Gibson, plus we pick up MD of motoring James Burnay from a lay-by near Hemel Hempstead – he denies having been involved in any unsavoury roadside activities.
Land Rover is celebrating its 65th anniversary in April, so we're producing a MagBook with them that walks through the past, present and future. Both parties are well connected and we've planned some cracking interviews and features.
With both my wife Lara and I being strictly half-arsed Valentiners, 14 February thankfully sees us avoiding the purchase of any red tat. We eat cheese, crack open a bottle of vintage Fonseca port I've been saving and watch 'Skyfall'.
Friday
Drinking a whole bottle of port wasn't a great idea. Neither were the amaretto sours. Or the undefined cocktail I created and tried to improve by adding a dash of black sambuca. But some green tea and porridge seem to blast out the fuzziness.
By 7.45am I've completed a content syndication deal with a Sydney-based client over Skype – he kindly stayed behind on a Friday night to get this signed off. That's commitment.
Meet with Martin Belson, managing director of Dennis Enterprise, to map out travel plans for the rest of 2013. It's going to be a busy year, with a number of key territories that need exploring for expansion of the business.
There's a pleasing end to the week, as I score some tickets to see the man-mountain of an actor Idris Elba DJ-ing his house and hip-hop set next week.

Personal CV
Age: 36
Favourite media: Been using Newsnow aggregator for almost 10 years now
My biggest inspiration: Grandfather – a hugely driven man who single-handedly ensured a better life for his family
Dream job: Anything that involves travelling. It's a privilege
Not a lot of people know this about me: I came to London writing comedy sketches for TV