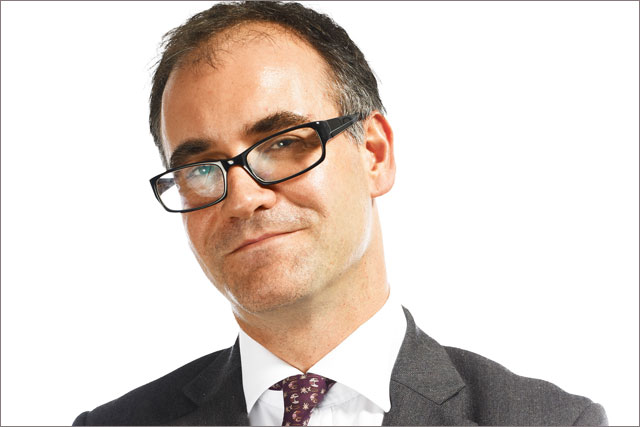 Monday
Monday starts with rain, very heavy rain indeed. And this sets the tone for the week, weather-wise. Fortunately, my bike ride to Hertford station is quick enough to leave me relatively dry for the train journey into the West End.
First order of the day is to follow up on our inaugural Dennis hack day. The idea is borrowed from the tech industry, where prototyping new software is done in small teams over the course of a day or two. The #HackDennis winner was an idea to develop a mobile API for the business. I check in with Martin Belson, MD of our Enterprise division, on how we intend to take the project forward.
Tonight's entertainment is the PPA Chairman's reception, hosted in the nearby Paramount club. It is a very relaxed event and I have a chance to catch up with incoming chairman Kevin Costello, CEO of Haymarket, as well as thank the outgoing chairman Kevin Hand.
I also chat to Jonny Kaldor, founder of PugPig software that powers some of our Apple products. He was a judge at our hack day too. Despite the free-flowing drinks, I manage to hold my post-January "dryathlon" nerve and drink water. Just.
Tuesday
I meet with Patrick Knight who is the CEO of tablepouncer.com. Dennis is an early-stage investor in this restaurant booking start-up and the business has had a very good start to the year. In addition to any financial upside, if any of our minority investments sell for a good price, I really like the cultural benefit being associated with start-ups brings to the company. You can learn a lot about innovation and agility in this way.
A memo from Felix Dennis lands in my inbox, congratulating the management team on our 2013 results, which are the best in the company's 40-year history. It also warns us against hubris going forward, no matter how good 2013 was. In other words: well done, but do better in 2014 please! The content is no surprise, though as, like any good chairman, he let me see the memo in advance to check I'm happy with the message. Felix signs off by saying "I'm proud of you all."
Wednesday
My commute is somewhat different today thanks to the Tube strike and it is pouring with rain (again). I decide to avoid the Tube completely and run from Highbury and Islington, where my train passes through. It's a pleasant enough three miles to our Cleveland St HQ, but there are a lot of people to dodge. What surprises me is that it takes the same time as taking the Victoria Line and walking from Warren Street. I make a mental note to add this routine to my marathon-training programme.
Despite Bob Crow's best efforts, Dennis staffers make an extraordinary collective effort to walk/cycle/run their way to work – the office is as busy as always.
It's a productive day, ending with a reception for the Amber charity. We support a nominated charity each year, and Amber has been bought to our attention by Finn Russell-Cobb who works on our automotive sales team.
At the evening do at Jack Barclay in Berkley Square, we hear about the work Amber is doing to support disadvantaged, unemployed people and get them working again. The speeches by the three Amber residents are very moving indeed. The champagne on offer succeeds in breaking my dryathlon resolve.
Thursday
No Tube today, but no run either, as I am attending The Week's annual strategy conference morning at Centre Point. The morning is hosted by Kerin O'Connor, who runs The Week here in the UK. It is an incredibly useful and energising morning, and I'm struck by the success The Week is having on every level, from driving print and digital subscriptions, to the quality of our advertising pitch.
A quote from a recent BBC survey defines being middle class as holidaying in Tuscany, driving an Audi, buying Boden clothes and….subscribing to The Week. I like that.
Lunch is at Latium with David Bliss who is Felix's estate manager in Warwickshire. We are joined by Alison Hunter, our group HR director, to discuss the Heart of England Forest Project and how Dennis Publishing can become more involved. David has already planted 2,500 acres of native woodland and plans another 18,000 more over the next decade. We discuss everything from tree-planting days to changing our reception to include more about the charity.
My day ends with a Land Rover Monthly reader contacting me on Twitter to ask about a competition prize that has gone astray. I message him that I'll sort it out tomorrow.
Friday
The Tubes are running and so am I. I hop off at Finsbury Park this time and run the four miles to Cleveland Street. It's a much better run today with far fewer crowds and no rain. And it only takes 10 minutes longer. As I up my training, I'm going to get off further up the line. Next week Bowes Park.
I meet with our CTO Paul Lomax to talk about various projects he is working on, including a revamp of our data warehouse and responsive design for our websites. Sensibly we have skipped the bespoke mobile site cul-de-sac and will have fully responsive design instead. This means our readers will see content exactly formatted to the screen they're using and advertisers will have the correct display format prominently applied. Men's Fitness has already moved to responsive design, with Carbuyer.co.uk next.
Lunch is at Roka with Pete Wootton, our digital MD, and Fraser Davidson from Preparation Capital. Fraser has recently joined as executive chairman of Contentment, the company that builds and licenses the Padify software that creates our most successful HTML-based tablet and phone products, such as Men's Fitness and Cyclist.
The day ends with a 5.30pm conference call on an acquisition we're making. I'm a big believer in deal momentum and acquisitions and business development have driven a lot of recent company growth. I want to end the week making sure we are ready to sign the heads of terms.
I return to Hertford in the evening to find it…underwater. And still raining.

Age: 44
Favourite media: Netflix
My biggest inspiration: Felix Dennis, of course!
Dream job: Running Chateaux d'Yquem in Bordeaux
Not a lot of people know this about me... I was the 1993 UK Doom champion