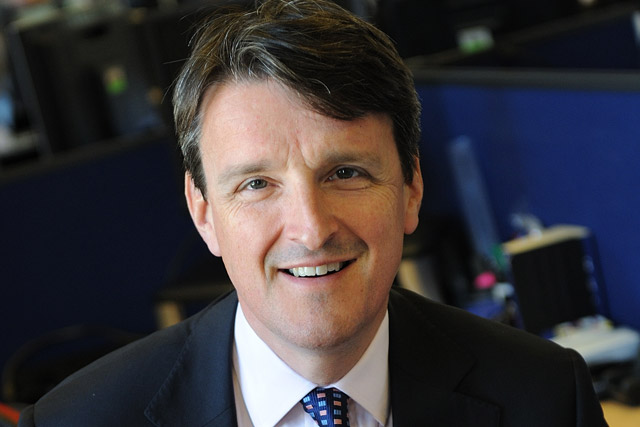 Monday
I've always been an early riser, though today I am still mentally on the Greek island of Paxos, where I've just spent the last week on holiday with my family. After getting the train from Barnes to Berkhamsted via Clapham Junction – known locally as 'The Westfields Express', I arrive at the office rather wishing I was still at that rather pleasant beach-side local tavern.
I have been at ABC for almost six years now and certainly no two weeks (or at times two days) are ever the same, although there is always a certain rhythm in the run-up to our big reports being issued.
First, I'm off with our finance and HR team to look at possible new office premises around Berkhamsted, or 'Berko' as it's known by its residents. Our leases expire next year – while staying put looks an attractive option, it all depends on what our landlords want to do.
Once back, I have a brief catch-up with Charlotte Brown of the magazines client service team before a meeting tomorrow on the Consumer Magazines Report. I also begin the Herculean task of judging some of the categories in the forthcoming Campaign Media Awards.
The rest of the afternoon is taken up with the joyful job of speed-reading, and then deleting, most of the hundreds of e-mails that have accumulated in my inbox over one short week away. The last act of a long day is preparing a briefing pack for Sally Cartwright, chairman at ABC. She is due to meet Henry Faure Walker, the new chief executive of Newsquest later this week.
I also have a quick catch-up with her and the finance director on our results as the year end approaches – never count your chickens...but so far they look on track.
Tuesday
As well as being CEO of ABC UK, I am also president of the 36-strong International Federation of Audit Bureaux of Circulations (IFABC). Today kicks off with an IFABC Global Board teleconference linking the ABC UK equivalents in Australia, Malaysia, India, W&E Europe and Brazil. Fortunately for me, 10am UK time is the best fit for the group, though it's only 7am in Sao Paolo and well into the evening in Sydney.
Our work is increasingly focused on global digital standards and sharing knowledge on how best to audit emerging digital platforms such as apps and digital editions.
Then over to the boardroom to welcome a couple of new staff members to the approximately100-strong ABC team – my role in the induction programme is to ensure they understand our longer-term direction focused on digital and other new media, as we aim for this to account for 50% of our business by 2015.
After lunch, I am off to discuss the final details of our Consumer Magazine Report. This meeting takes up the better part of my afternoon as there is a lot to get through, with around 200 magazines reporting figures. In particular we cover the new mandatory requirement for monthly print circulation break-outs and the option to include innovative digital publications, as well as digital editions which are similar to print copies.
These changes were agreed by ABC's magazine committee of buyers and sellers – our job is to listen carefully to the industry to ensure we are constantly innovating in a way that mirrors its needs.
Wednesday
Mug of tea safely in hand, I look over the London meetings planned for Thursday and Friday, and work through what needs to be done in advance. I also cast a keen eye over the weather forecast as there will be two big cricket matches coming up later in the week – apparently there is a Test Match scheduled at Old Trafford, but more critically, I shall be making my debut guesting for the MediaTel XI against Kantar on Thursday!
The next port of call is our monthly Innovation Review meeting. While considering our new digital audit approach, we also discuss "mobile" and what further areas the industry might like ABC to explore. While we already cover "mobile" through our web and other digital reporting, we are undertaking a major consultation with our members and other stakeholders to see if there is more for us to do.
Thursday
Today brings a day of meetings in London. I am a regular "cofficer" and my latest favourite venue is the Ham Yard Hotel, right behind Shaftesbury Avenue.
First up is a catch-up with Simon Marquis, chairman of NRS. The recent serving of notice by the NPA on the NRS is a main topic of conversation and we both hope that a cross-industry solution will still emerge from this exercise. We both aim to work together in the interests of our mutual stakeholders and Simon Redican, the new CEO of NRS will present his ideas to the ABC Board in September, as I did to NRS earlier in the year.
The morning moves quickly and next I am joined by ABC's Richard Foan and Jerry Hill, chief executive of RAJAR, who drops by to chew the fat – Jerry and I go back quite a few years to our agency-client days at Initiative and Unilever respectively.

News from Old Trafford (India 8 for 4) augurs well for the evening's match to come but first I need to write a short paper outlining the programme for our forthcoming directors' team strategy workshop.
Then I have a chance to review the first version of our last ABC Board minutes and finally, several cappuccinos and a sandwich later, completing some 360 appraisal feedback requests. Finally, a train home and a quick drive over to Ealing for what turns out to be a rather exciting cricket match under the captaincy of Derek Jones, alongside others such as Dominic Mills, against a bolstered (by us) Kantar team.
My bowling was "tidy", according to the match report, but we still have a large total to chase as the light fades. In the gloom of the late evening, Derek Jones hooks Kantar's quick bowler off his nose to the boundary, losing his footing in the process, but securing a victory for the MediaTel team in the penultimate over. (Apparently England had a good day too).
Friday
First up, a meeting to review and sign off some changes to our data tool, ABC QuickView, which lets members analyse, combine, slice and dice and present our data the way they would like.
Then I squeeze in a final progress meeting with audit director, Simon Redlich, before his holiday – timely delivery of the major audits looks more than feasible, though getting consistently reliable digital data from many publishers is proving harder than you might imagine.
My subsequent journey to London is then delayed by three consecutive rail cancellations (thank you London Midland!). Final call of the day is on James Wildman, newly-ensconced at Trinity Mirror – we discuss what ABC does for them and what else it could do. On the way out, we drop in on Gary McNish, who runs the regional side of NASa, before I head for the Jubilee Line and home.

My busy day and week is put into perspective by dinner with my wife, Clare, and then the Test highlights – a good weekend ahead beckons for England and for me.
Age: Twice the sum of my career bowling (18.5) and batting (8) averages
Favourite media: Cricinfo's Live Desktop Scoreboard
My biggest inspiration: I know a lot of people say this, but it has to be my family
Dream job: Managing a Tuscan vineyard
Not a lot of people know this about me... I captained the Bristol 'University Challenge' team in 1982