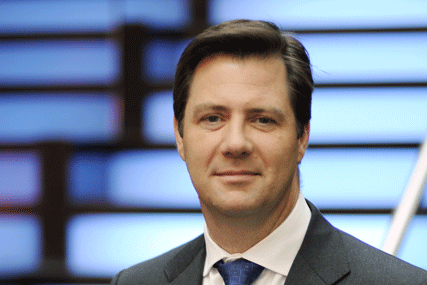 Monday
Set off for Heathrow on my BMW motorbike at 7.30am for a 9.30am flight to Madrid. On arrival, I take a taxi to meet the team at PromoMadrid, where I show them a prototype of the new Bloomberg BusinessWeek magazine, which relaunches on 27 April. They like the new look - designed by Richard Turley, previously of the Guardian - and are impressed we are increasing the paper quality, the editorial pages and the frequency, up from 47 to 50 issues per year.
Next, we meet infrastructure company Ferrovial, who show keen interest in our flagship European event, The European Leadership Forum - particularly as Boris Johnson's team has just agreed we can host the event at City Hall. After dinner at the Real Café in Real Madrid's Bernabeu Stadium I go back to the hotel and hit the gym, where I try to follow the routine I read in Men's Health last week.
Tuesday
Decide to skip breakfast in the hotel for an extra half-hour's sleep but there is no coffee machine in the room so I struggle to get a taxi to my first meeting with the director of marketing for ICEX (Instituto Espanol de Comercio Exterior). As an ex-financial journalist he is very keen to see the relaunch prototype and really likes the navigation and the planned changes. He also suggests we should launch a Spanish-language edition as there seems to be a gap in the market. I make a mental note to bring this up with the magazine's new president, Paul Bascobert, when we meet in Frankfurt tomorrow.
In the afternoon, I have meetings with MPG Madrid, Ots Media and the Instituto de Empresa. Everyone is very positive about the relaunch and our plans to build circulation (sold, not bulk) in EMEA. My meetings finish at one and I head back to the airport and get home by 7pm, just in time to see the kids before they go to bed. I print out my boarding pass for the following day and put my suit in the bathroom so I can get dressed without disturbing my wife Caroline, global chief client officer at Mediaedge:cia, and our three children aged nine, four and two.
Wednesday
Wake up at the unholy hour of 4.30am and manage to get to Heathrow in 14 minutes - a new personal best. At the airport I meet up with Christoph Gerth, our head of sales for Germany, and take a 6.25am flight to Frankfurt. When we land we join Paul Bascobert, president of Bloomberg BusinessWeek, who has travelled from meetings in Paris, and go straight from the airport to meet the media agency Frohlich Consult. Paul runs through the relaunch and our plans to increase circulation outside the US.
We then have a good meeting with Deutsche Bank, who are keen to get their new advertising creative in the relaunch issue, followed by a meeting with UM's Frankfurt office. Paul and I discuss our plans for Europe - where we need to be and what we need to do to get us there - before catching the 7.55pm flight home.
Thursday
In the London office by 8.40am, where I catch up with Cheryl Entler from creative solutions on the proposals out to market and with Kate Sharpe from marketing on our relaunch marketing event - she informs me the ad campaign is booked and the numbers are looking good for our party next Tuesday. I meet HR to discuss BusinessWeek's integration with Bloomberg, following Bloomberg's acquisition of the magazine from McGraw Hill last October, before a lunch-time trip to Virgin Active. In the afternoon I have a call with Jessica Sibley, worldwide publisher of Bloomberg BusinessWeek, on the latest update from New York on the relaunch and sales activity. I finish the day by making a start on the follow-up from the Madrid meetings - I always try to get these out within a week at the latest.
Friday
In the office just before 7am, where I manage to clear all the follow-up from Madrid by 9.30am and put meeting notes into our CRM tool Saleforce. I call Emilio, our Italian rep, to follow up on the proposals that are out and his thoughts on local language opportunities. I then have a conference call just before lunch to update the New York office on the relaunch issue and events. We have appointed a new media agency, to be announced imminently, which is very exciting as it has been a long time since we have had such massive investment and drive to increase circulation.
Our head of business development Christian Corser is in town for the relaunch next week, so I hit the phones to book meetings with for him while he is here, including Saatchi & Saatchi, Carat, Mediaedge:cia and Nokia. I finish the week by prioritising what needs to be done by Monday - this includes including getting team members who are scattered across Europe and Asia on sales trips either home or into accommodation until the Icelandic volcanic ash has cleared.