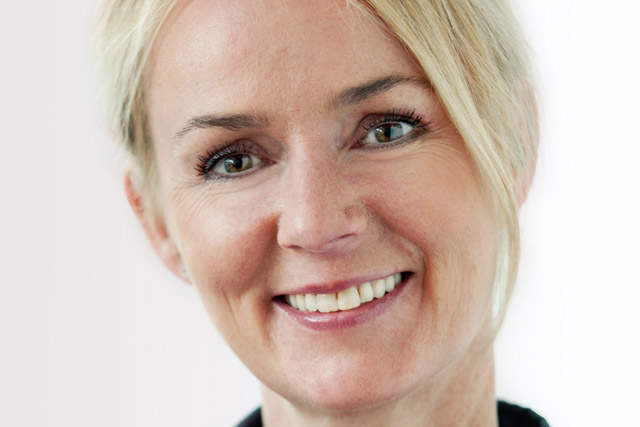 Monday
I fly into Heathrow, as it's one of my weeks in the UK. As CEO of both BlowUp Media UK and the whole group, I have to divide my time between London, the largest office in the company, the group headquarters in Dusseldorf, and Europe.
Thankfully Düsseldorf's airport is extremely convenient, as I can say cheerio to the boyfriend and then it's just a ten-minute commute from my apartment in the city centre to the airport.
My first meeting is with our development team. We review possibilities all over the UK and also look at different strategies and solutions for one of our main sites, which is now obstructed by building works. With building sites, circumstances can change very quickly and any change to the advertising sites means we have to reapply for planning permission.
Such are the joys of giant posters, but with 20 years' experience of the format, we're used to it.
Later in the day I go on a site tour of our East London Domination package, four sites in the Shoreditch area that have been attracting plenty of bookings from advertisers trying to reach cool and hip young, design and tech types.
Tuesday
I have a very early start (Germany is one hour ahead), with a conference call to the CEO and CFO of our parent company Stroer, a provider of online advertising and out of home.
As BlowUp is currently one of Stroer's most successful divisions, with the UK office performing especially well, the meeting is relatively routine as we look at the prospects for future growth, especially with digital giant posters, which is one priority for the next few years.
Already we have launched two major digital sites this year, the Wow in Rotterdam and the Super Motion site in Cardiff, which are in perfect locations and pretty much form the template for blowUP's future digital development
Then I rush off to a breakfast meeting with Liz Jones, managing director PSI OOH, to catch up on international campaigns and potential clients for our 300 landmark sites in Europe.
Later in the day there's a conference call with our European marketing director in Dusseldorf to review new promotional material for our brand new Schipol Airport site in Amsterdam and the launch of a 1500-sq m site in the centre of Madrid, with marketing, design and sales people all having their say.
Wednesday
First thing, I head off for a run in Holland Park near my London flat, before getting to the office to sit in on a meeting between our sales director and one of the UK's major poster specialists. I enjoy those meetings in the UK much more than in other European countries – here they are much more pro-active, cutting edge and more fun. Negotiations are intense in the UK, but fair play.
Overall, the great attraction of the UK OOH scene is the forward-looking approach on all sides. Here media owners and agencies are prepared to invest serious sums in innovation and product quality, and just as importantly, ready to take risks and to look for new ways of doing things.
Thursday
Early breakfast meeting with Mike Baker, CEO at OMC (Outdoor Media Centre) where I catch up on the latest in the OOH industry. Again, compared with the rest of Europe, the OMC is an efficient, pro-active OOH media body, providing a good service. That might raise an eyebrow or two, but I have the direct comparison in front of me. Trying to work out our market share and get useful media data is much more difficult in our other markets in Europe.
Another meeting with a planning consultant to talk about a specific project my development team is working on. There is much more clarity and opportunity in the planning area here, compared with, for example, Germany. With fewer regulations and greater transparency, planning and building sites is a much quicker process in the UK.
Next there's a lunch meeting with Chris O'Donnell, global commercial director at Posterscope, chatting about the World Cup, (very pleasant for me!) but also about the positioning of BlowUp Media within large format OOH, research opportunities and the pros and cons of blowUP joining Route.
In the afternoon, I go into a conference call with my group management for the monthly country board meeting for Netherlands, Belgium and Spain.
Friday
First thing, there's a 7.30am conference call with our German country director and BlowUp CFO to discuss our offer to the landlord, in a pitch for what will be the best site to become available in Berlin in the next nine months. It is a real giant, at over 1,500 sqm in the centre of the city's West-End.
Then I have a conference call with my group CFO on BlowUp's path to growth to 2019, including a short five-year business plan (we Germans like to operate as clairvoyants), followed by a strategic discussion with our European CCO to share thoughts about the approach for our new division,BlowUp Style. This will provide landlords with attractive facades to cover ugly building work.
Later on I have a meeting with the sales director and a potential research company to discuss the best and most professional way to prove the impact of giant posters. As the market leader in the UK, we realise we have to sell the medium first and ourselves second.
Then after a busy but satisfying week, I head for a local pub to meet up with the boyfriend, who loves London as much as I do and flies in regularly for the weekend. After a few drinks, we go for a curry. Coming from compact, well-ordered Dusseldorf, where most people drive to work, it's a nice change to dive into the liveliness and dynamism of the London scene.
Age: 50
Favourite media: Out of Home
My biggest inspiration: Women in charge
Dream job: Running Highgrove Gardens
Not a lot of people know this about me... I am a keen gardener – window boxes now, but gardens later in life