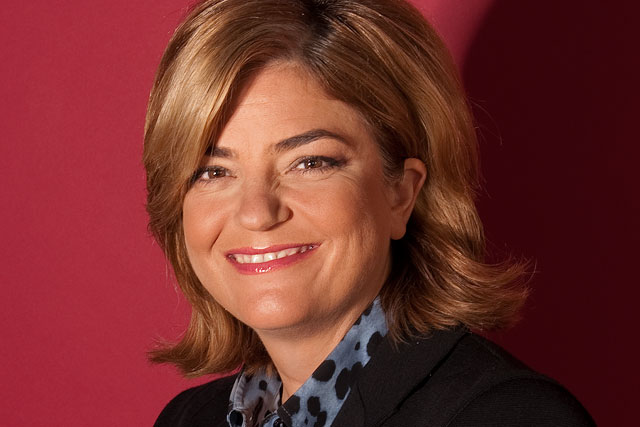 Monday
I'm massively into fitness, but since taking up the Metro post I've fallen off the wagon. Set my alarm for a 5.30am run, but only after a coffee in bed and (sad but true) a glance at Twitter.
I tune into Capital FM on the short drive to Metro's Kensington offices. Pick up my daily Metro - three months into the job, it feels like the initiation period is over.
First off, I discuss revenue figures and EcoVelocity (the upcoming eco car show we co-own) with our executive director of sales and commercial development, Grant Woodthorpe.
Meeting with Grant and our FD Phil Offord, about a revenue development project Metro is working on with my old team at A+N Media. Happy to report good chemistry.
My head is already buzzing with ideas for next week's senior team strategy session away day.
Steve Parker, managing director of our media agency Starcom MediaVest, accompanied by his head of emerging platforms, Oli Newton and head of thought Leadership, Steve Smith, come in to offer their thoughts on the future of media.
They wax lyrical on social communities, applications, mobile... plenty of thought-provoking fodder.
I've just started reconnecting with the agency guys after being in a group role and head off to meet with Alistair McCallum, managing director of M2M Media at his offices on Old Marylebone Road.
It's very much a listening meeting - how can we as media owner help agencies and clients achieve their goals? Call me old-fashioned, but I think the more you understand what your customers want to do, the more successful a business you build.
Rare night in. Was due to attend The Roof Gardens' 30th birthday party but felt it far too glam for a Monday.
Tuesday
Walk to Holland Park in an attempt to vary my commute and test out different tube stations.
Breakfast is at Pearl with Jane Ratcliffe, chairman of MediaCom. We get so stuck into discussing the evolving media business model we nearly forget to catch up on the years since we first met (pre-media) through a mutual friend in Scotland.
Running late so hail a taxi back to the office. Fatal mistake, any attempt to email on my iPad thwarted by being bounced about.
Plenty to discuss with Jamie Walters, our executive director digital, as the new look Metro.co.uk has just launched. It's a fresher looking site, with more social integration and a revised mobile app coming soon.
I continue on the round of lunches with small groups from the team I set up upon joining Metro. It's a people-focused day as we follow up on an internal course.
I was blown away by our staff's creativity when asked to design new revenue streams. The winning idea – adult learning courses running on Metro.co.uk – is now live. Congratulations Mark!
Wednesday
Grant and I drive to Hemel Hempstead to meet Niall O'Keefe, UK marketing director of Dixons.
Arrive early and tuck into eggs, toast and builders' tea for £3.70 at a replica of the caff from The Apprentice.
Checking into FourSquare, I reflect on the contrast to yesterday's posh breakfast. Love the diversity of my job.
It's great to gain a sense of Niall's challenges at Dixons. Evil traffic jams back into London offer ample opportunity to discuss how we can develop Metro's offer and be at the forefront of the media industry going forward. Yet more fuel for next week's strategy session.
Mad dash to personal training session at the office gym - it keeps me sane.
Paul Hill, sales director of Stickyeyes, comes in to talk about search to the senior team. The search journey begins far before typing a term into Google, and we need to understand Metro's role in this space.
Thursday
It's EcoVelocity launch day. We run a wrap around Metro's morning edition and back it up with web and social activity including Twitter.
Video call to Mark Rix, CEO of 7 Days – our Metro-like product in Dubai, which comes under my remit. Mark fills me in on the Dubai market, and how hot it is out there. Grrrr.
Meet with Clare Abley who runs A&N Media's Strategic Insight function. We're working hard to get our heads around emerging media consumption habits.
I present my first web conference to four of our staff who missed Metro's annual conference in Barcelona. Proud to report no technical glitches.
Danny Cammiade, COO at Johnston Press is in London, so we meet face-to-face for the first time.
Metro operates a franchise model. Partners including Trinity Mirror and Northcliffe play a role in printing and distribution to help make us an urban, national title. Relationships with franchise partners are a vital part of the Metro mix.
Close off the day with conference call with John Leitch, executive director of operations and our Irish partners - The Irish Times and Independent News & Media. Metro is part of a three-way joint venture in Ireland with Metro Herald in Dublin, and there's an impending office move to work out with all the related logistics.
Friday
Straight into a one-to one with Kevin Beatty, chief executive of A&N Media before jumping in a cab to Vizeum's fabulous new offices off Triton Square.
Great discussion with Vizeum managing director Grant Millar about new agency models, Vizeum's relationship with Metro and what they're doing in the eCRM field.
I'm thrilled to meet a new fellow member of WACL (Women in Advertising and Communications London), Ida Rezvani, managing director of Dentsu London, which is coming out with incredibly innovative creative work.
Last but not least, I meet a consulting company who are looking at the future of media for A&N Group.
Before closing down for the night, I ping a quick email to Lord Rothermere, chairman of DMGT, keeping my promise to stay in touch and relay what we've been doing at Metro.
Head happily home to Chiswick, my partner and a large bottle of wine.