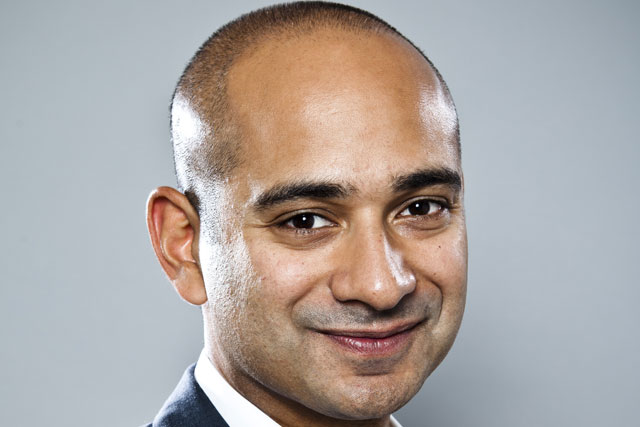 Monday
6.24am. I'm alone, it's dark and there's a cold puddle of water in the bed. I eventually work out why. I'm in the spare room. Pull out an ice pack from under the duvet – I ran the Brighton Half Marathon (for the first time) and still have a dodgy, swollen knee. So not looking forward to the London Marathon.
We kick off every day with a 10-minute senior team meeting at 9.50am. Each person talks about a win (got to start with that) a "stuck" and a concern. It's a bit like group therapy – I'm always amazed at what we can get through in 10 minutes.
At the Riding House Cafe for lunch to meet the new global communications director from Amadeus, Ben Hunt. This restaurant must be a goldmine for its owners, it is always packed. Ben's an ex-FT journalist that I've met before, but in a previous career.
Back to the office then swiftly on in a taxi to meet Virgin Group for a creative planning meeting. The taxi driver thinks we are journalists looking to interview Terry Venables who lives opposite Virgin's office. I tell him we're from the Telegraph. "Shut the front door!" he shouts.
Home for dinner with my wife. We talk about where to go on holiday, never an easy decision with two young kids under three.
Tuesday
6.24am. Back in my own bed, but my knee still hurts. I've had no need for an alarm clock since my first child was born. I put on a jacket and a boxfresh black shirt for a new business meeting. Walk downstairs to say goodbye to the kids, only to have a spoon covered in porridge flung at me. Charming.
9am. Meeting with our new marketing and new business exec, Alex. He's a smart lad from Hyper Island. We work out a strategy for targeting companies we think we can help. The plan is to focus on what we call "pockets of tension"- – areas of concern for marketers. Questions coming to mind are "what should my publishing strategy be?" and "How can I use technology effectively to target consumers?".
We're going to use our analytics division to uncover companies interested in these areas. We put in a date for a networking dinner, mix of clients and prospects. We've just completed research into the Quantified-Self and the role of technology in the use and collection of personal data by individuals through technology – Nike+ style, which we will share at the dinner.
The topic of discussion is whether this is the future of sharing or just another fad? Is it a strategy that brands should follow?
I'm getting excited; Arsenal vs Bayern Munich tonight. I check out Bayern's away record and become nervous.
Dial in to our fortnightly client and sales meeting from our Lewes office. We run through areas to focus on in the upcoming weeks. We are in the midst of doing budgets for the next five months – project work makes forecasting hard.
New business meeting in the afternoon with a company wanting to use mobile technology to help with the capture of personal data and to increase sales.
Off to the Emirates. Typically, we're one goal down 10 minutes in, but I still manage a laugh at the Germans singing English songs.
Wednesday
4.26am. Stella (aged nine months) is screaming. 6.04am. She's now in our bed trying to bite my face. Off to the gym at 6.45am and just make it for 7am for my personal training session. I'm lazy otherwise.
It's budgeting day today. We acquired a social media agency six months ago, so are still in the process of integration. I spend the morning with the UK finance team looking at operating costs. Our expenses always seem a bit over – we spent too much on the Christmas Party, but we are a people-focused business and these things happen.
Production and tech meeting with Bruno our lead producer, Rowan our tech director and Mark, creative technologist (he hates the title, thinks it doesn't mean anything). We look at our efficiency and work flow. We've just completed YouTube Brazil's halo channel for the Rio Carnival. With 10 live cameras and 20 million viewers expected it's a huge project, so a debrief is in the offing.
5pm. Budget call with our San Francisco and New York offices.
Call the wife to say I'm leaving in 20 minutes, giving me just enough for a quick beer with the team at the Lucky Pig (the best bar in the area and conveniently located next door to us). Won't be catching the 'Brits' tonight. Instead, I read my son a bedtime story, work on a new business proposal and send it to the US for input. Talk more about holiday plans with my wife.
Thursday
6.24am. I'm wide awake. I really must book that holiday. Drop my son off at nursery. I intend to be a bit late today as it's "stay and play" day at nursery, when I usually spend an hour with him. I'm apparently the only parent there. He's got a gang of buddies so I leave him to it – he's off having fun.
In for our 9.50am meeting then steel myself for today's to-do list – complete a presentation to the board of Virgin, get our networking dinner invites out, and finish budget work on paper for an office move from Lewes to Brighton.
Roger, who heads up our engagement team, has been off in Amsterdam at TomTom, so we catch up.
Dinner acceptances come through from Google, Amadeus, our group chairman, Richard Eyre, and Moneysupermarket.com
Regular 2pm call with New York where we discuss our April meeting with Novartis. We are helping them navigate the regulatory constraints they have on Facebook. Technology and its application in the health sector is fascinating. The opportunity it presents is truly exciting. Get sent the new website for Google Glass. It's a cool product (although I heard not that user friendly at the moment) and is a nicely designed website.
Chat to the guys in the office to see how things are going and what they're working on. Someone has made our website do the Harlem Shake! I'm not sure if I'm impressed or furious. Maybe both?
Book in lunch with Simon, our client at GE, then off to dinner at The Groucho with the digital head of our sister agency, Dan and Mark (now rechristened digital director, rather than creative technologist). The food is, as always, slightly average, but the bar is great and the company is fun. Dan's from Glasgow and has a great sense of humour. Back home late.
Friday
6.24am. The house is very quite, so I creep downstairs to go off to the gym. I'm foiled, as the baby wakes up. I run back upstairs and hand her to the wife with a bottle of milk. The girls aren't happy, and I'm going to be late. Jump on the scooter and head off into the snow.
Straight into a meeting with the digital director and the CMO of Virgin to introduce ourselves and talk about our forthcoming project. He's a cool guy living in LA. Mark and I are a little hungover, but the bitter cold is extremely sobering. Looking forward to spring and that holiday. Must book it.
Back in the office for 12 noon. Sit down with our tech director and run over his plan for the next five months, covering people, process, technology strategy and research. It's good. We have a team offsite in a week and this is the basis of it. With a few new people joining, we want to get them into the Beyond way of working. No lunch today.
Catch up with Lindy, our HR manager. We have lots of interviews booked in and Lindy gives me a comprehensive update on our own people. 4pm. Budget call again with the US (to talk forecast/hirings) and to chat about our potential move to Brighton. More detail is required.
Excited about going to Twickenham to watch the French lose. Give my Arsenal season ticket to James in the office who supports Villa. Pretty sure Arsenal will win.
Back home on time tonight, people round for dinner, and looking forward to a few drinks.

Personal CV
Age: 36
Favourite media: Wired Magazine
My biggest inspiration: Judy Gibbons
Dream job: Technology VC
Not a lot of people know this about me: I was a hostage in the first Gulf War