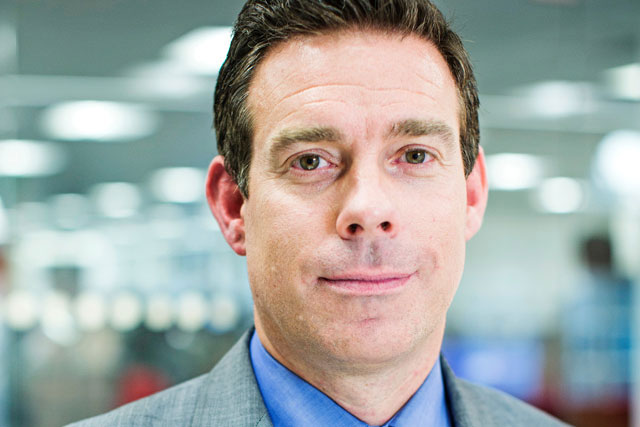 Monday
After a quick peruse through The Guardian on the 7.07am from Brentwood to Liverpool Street, my week kicks off with our Havas Media Group senior leadership team meeting, which always involves Pedro Avery, CEO of Arena, and Alastair Rhymer, UK group chief financial officer, and most weeks we are joined by our new UK chairman and global chief, Dominique Delport.
In the UK we are working hard to make the most of the wide-ranging skills and capabilities within the Havas Group and to ensure that our clients can benefit from this collaborative way of working.
Then it's on to a catch-up with our chief talent officer, Ruth Smyth, to check that our learning and development programme is on track to transform us into an agency that treats owned, earned and shared as equally as paid media.
After a quick lunch, I've got a couple of minutes to check updates on Twitter – a habit which many of my colleagues feel is an obsession. I can't live without it, so maybe it is! I manage to sneak in a few quick tweets before my afternoon meeting with the smart chaps from IDComms. I take the opportunity to share some of the latest developments in our data and content strategy and we talk through how this will be part of our future plans.
Tuesday
My morning is spent with Nicola Mendelsohn, VP EMEA at Facebook, and our Camelot client to talk about how we can weave an earned and paid strategy together that inspires and entertains.
I then have to rush to the Havas Media board off-site for our #oneteam coaching session with the brilliant Maria Fay, executive coach, facilitator and leadership development consultant (FRSA), to co-create how we want the next nine months to look.
We spend the evening together as a team, letting our hair down and initiating our new female brethren of Amanda Pitt, managing partner for new business and marketing; Fiona McCann, head of client leadership and chief insight officer, Denise Turner. Our board would smash any government-imposed ratio, as it's already a 50:50 female/male split.
Wednesday
The day starts with a couple of tweets and breakfast with our head of creative services, Segun Ogunsheye. We catch up on how his team is doing and he reminds me (yet again) that I don't get to the gym half as often as he does.
Further meetings with senior staff take up most of the morning, including catching up with Mike Potts, chief data officer and owner of our data consultancy business DBI.
Since acquiring DBI last year, it has doubled in size. I'm keen for it to stay in start-up mode and ride the crest of the wave, so Mike and I make some quick-draw decisions.
In the afternoon, I attend one of our Havas Media Mobile Week sessions on 'Making use of Location Data'. Mobext, our dedicated mobile team, is running sessions throughout the week which are giving me some food for thought for my session at Advertising Week Europe on "Mobile as Glue" next Monday.
I head to the city in the afternoon to catch up with our client, AXA, and then shoot back to Hakkasan in Mayfair for dinner with Ben Regensburger (ex-Google EMEA, Doubleclick head and now running Tapad in Europe), to hear the latest on his new role, the global demand for cross-screen technology solutions, and how he's finding the travel.
Thursday
I start the morning by catching up on the latest tech news in the US via TechCrunch and Forbes.com; the pace of change this year has been quite remarkable.
The early hours are dominated by responding to some last-minute questions from a client that we are pitching for. Then it's on to our away day with the HMG exec team, where we have some team coaching on how to work as #oneteam and then debate how to best push our organic marketing approach to the industry.
I make it along to Geoff Russell's retirement drinks in the evening to wish him well. After 14 years steering the IPA through some stormy waters, he certainly deserves a good send off!
Friday
I meet with a London college that is expanding to include a college for creative digital technology in 2015. Getting involved at this early stage puts us front and centre with new up-and-coming talent in the creative/tech space and also gives us the opportunity to recruit and invest in the future of our industry. It is a fascinating chat and fits with an initiative we started earlier in the year to get closer to Tech City. Definitely worth a tweet.
I spend some time looking at the programme for Advertising Week Europe next week and locking down the must-sees. Wednesday's session 'In Conversation with… Yannick Bollore' is definitely one of them and I'm really looking forward to hearing the latest from Yannick.
I'll also be popping along on Tuesday to support my boss, Dominique Delport in his conversation with documentary film-maker Morgan Spurlock (whose film about McDonalds, 'Super Size Me', was nominated for an Academy Award). They'll be discussing Hollywood and how advertisers can rewrite the script. It promises to be great value, especially since Dom has done a fair amount of TV presenting himself.
I make a note to attend AOL's Programmatic Panel on Wednesday morning (our chief development officer Darren Goldie is taking part) given how hot the topic of transparency in automated trading is right now.
The final job of the week is judging our Mobile Week pitch brief competition. Some really innovative ideas come out of the session, which serves as a great example of how creative we can be when putting together responses to existing and prospective clients.
One last tweet and then I'm ready for the weekend...although tweeting seems to follow me through Saturday and Sunday and before I know it I'll be back on the 7.07am to Liverpool Street again.
Age:
38
Favourite media:
Twitter
My biggest inspiration:
Captain Marvel aka Bryan Robson who showed me that hard work, grit and leading by example was a winning formula.
Dream job:
I always wanted to be a journalist and thrive on new cultures, so a roving travel hack would suit me just fine.
Not a lot of people know this about me…
I'm a trance junkie and I occasionally sing.