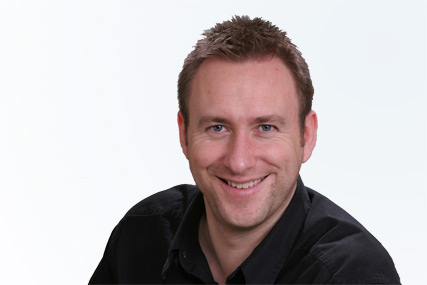 Monday
I start the week at 8am working from my home in York. Monday mornings are vital for me to catch up on business performance from the previous week. Getmemedia.com is a search tool that helps clients and their agencies find media, marketing and sponsorship solutions, so I gauge agency usage and look at which types of media the clients are searching for.
The rest of the morning is taken up with calls to my team and my PA Louise, planning a host of account management and new-business meetings for the week ahead. We work with more than 800 businesses (clients, agencies and media owners) and I try to see as many of them as possible across the year. After a coffee break, I complete our table plans for our sponsorship of the Media Week Awards, ensuring the right people are sitting next to each other.
At midday I head over to Manchester for an afternoon meeting with a media agency, followed by a meeting with the Co-Operative retail media team. We're writing a special feature on retail media, which we will send out to 10,000 marketing and agency members next week, and the Co-Operative is supplying some key insights.
Then it's down to London, arriving at 6pm. There are some great agencies and media owners outside London and living in the North enables me to keep in close contact with these companies. The train journey allows me to think clearly and take time off from business calls, as the Manchester line has terrible reception!
Tuesday
I usually stay in hotels in Central London, so I'm almost always in the office by 7am and internal meetings with my team tend to be completed by 9am. Today, we discuss how we can target new media owners in sports sponsorship.
At 9am I catch up with Tim Butler of Pearl & Dean about a client presentation we're coordinating as part of Get Me Insight, our marketing capability programme. Forty marketers will attend, so it's a great opportunity for P&D to extol the virtues of cinema. At 10.30am, I meet our software developers regarding an idea we have been discussing with our agency partners. It's vital we deliver business to agencies in a clear format, and we're finalising a feature that will "re-skin" the opportunities with the logo and corporate colours of the individual agency.
At 12:30pm, I'm at IPM's offices to meet one of my favourite men in media, Roy Jeans. His company is our insight partner for outdoor media and they are hosting a leading advertiser's Get Me Insight session on Thursday. Lunch is with Michelle Greenhaigh of Saatchi & Saatchi to introduce my new account director, Barbara Krah. Creative agencies are equally keen to stay on top of media solutions to enhance their overall market knowledge. After a lovely lunch, I catch up with Mike Baker of the Outdoor Advertising Association to discuss a presentation he's doing for another advertiser on media and measurement later in the week.
After another scramble on the underground - 90% of my meetings take place in clients' offices - I conduct two interviews for a new role within my business. By now it's 7:30pm and I head off to meet a few old friends from my client days at Nestle. I left four years ago, and it's great to see how well they have done - many are now marketing directors.
Wednesday
I start the day like millions of others with a Metro in my hand, getting up-to-date with the news and gossip. After an hour in the office, listening to TalkSport in the background, I'm off to a breakfast meeting with Tom Wong, marketing director of TBWA. One breakfast is not enough, so at 9am I meet Sir Robin Miller, former chief executive of Emap and chairman of Getmemedia.com. Robin and I have breakfast every other week, which is a great chance for me to download our business challenges and discuss new staff requirements. He's very supportive, a good mentor and always buys breakfast, as all good chairmen should!
Next I'm off to Southwark to meet IPC Media, where we pick up an excellent video testimonial from IPC Inspire's Jonathan Boakes, before moving on to meet Adrian Worsley, managing director of regional press sales house Clacksons. As Getmemedia.com grows its user-base across the UK, we need better regional solutions and Adrian is a great person to help us achieve this. I also have a small East Anglian client brief for him.
Then it's back to the office to meet Sarah Mowbray of Barb (lunch one), followed by a second lunch with James Papworth, marketing director of Specific Media. The demand for online media ideas is really growing, so we're trying to make sure Specific Media has the right profile and behavioural targeting information on the site to match user requests.
After two breakfasts and two lunches, it's back to the office for some internal catch-ups and preparation for tomorrow. The evening is spent with my wife Helen, who also works for Getmemedia.com. We put the work to one side, but it's hard not to turn the dinner into a management meeting!
Thursday
Today, I'm jointly coordinating a full day's Get Me Insight training with a leading advertiser at the offices of IPM. The session is an immersion on the outdoor market, and we have some excellent speakers from IPM, Mindshare, the OAA, JCDecaux and Clear Channel. The client leaves inspired by outdoor and I make my way to the Media Week Awards. I've left myself 20 minutes to get showered, changed and ready to meet my guests.
We have two tables at the awards and are hosting a mix of advertisers (Weetabix, Xbox and Capital One), agencies (Carat and Publicis) and media owners (IPC, Turner Media Innovations and O2). I have the pleasure of sitting next to Gemma Greaves from the Marketing Society and Laura Hill from Turner Media Innovations. We're a sponsor of the event and are supporting the prize for best media innovation, as well as sponsoring the photos of the night. Everyone in the room is either an existing client or a new business prospect.
It's a great table, the drinks are flowing and everyone's having a good time. Finally, it's my turn to present our award and I head up to the podium to face possible on-stage humiliation from the host comedian Rufus Hound. He lets me off lightly and I'm delighted Channel 4 wins the prize for innovation as their team always delivered fabulous work when I was a client. The rest of the evening goes with a bang, as many of you will know.
Friday
The Friday after the Media Week Awards is never a great day to be in the office early, but I have a morning account management meeting with Lesley Nicholle, commercial director of RadioWorks, to discuss our website and a response to a brief they are working on via us. I also quickly phone Steve Hatch, managing director of MEC, to confirm we are okay for our meeting on Monday, where he will record a video testimonial for us.
Then it's lunch with Darren Khan of Bauer Media. I was originally Darren's client; now, he's an important client of mine and someone I admire. Media is a great industry for relationships and people like Darren make it so much easier to relax when you're hungover. Lunch is followed by a long train journey home to York, and a weekend of recovery. I can't do late nights like I used to.