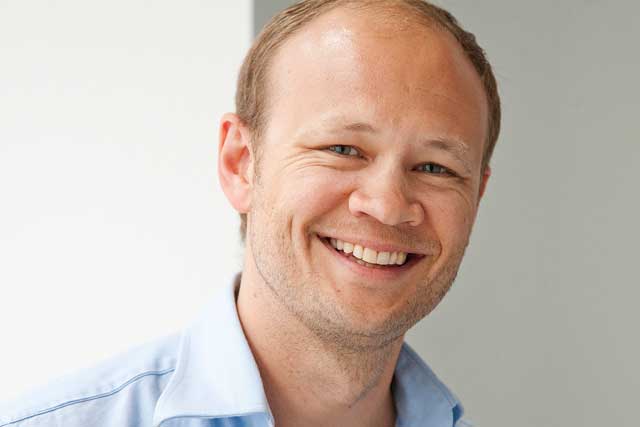 Monday
I'm up at 6.30 everyday, which always used to be a challenge but now I have a two-year-old son, Alfie, it's a great way to spend some time with him before work. After giving him breakfast and cleaning up the inevitable mess, I head into town.
The 9am weekly sales team meeting takes place in Hendrix – all of the Spotify meeting rooms are named after past music legends. We discuss the week ahead, including revenue forecasting, quarter four targets and new leads, and then I dial into the weekly European market call. As director of European sales, my team works with brands that are looking to advertise across more than one market.
In the afternoon I have an important client meeting with a well know beer brand and its media agency. To add a bit of fun into the meeting we've hired a DJ to teach us all how to mix afterwards. It's lucky the client is impressed by what Spotify can offer as my DJing skills will never win anyone over.
Tuesday
I'm up early this morning for a 30 minute jog with our spaniel Jinks before work. It's nice to find the time to do this as often I travel abroad for meetings. For example, last week I had a day trip to Amsterdam and next week I'm off to Switzerland for an overnight business trip.
To keep myself motivated on my run, I create a Reebok Fitlist, a new app on Spotify which allows you to create a playlist based on the physical activity you want to do, the intensity you want to train at, and the length of time you are planning to train.
It's great because it marries the music I like with my workout which keeps me motivated. The app also takes the type of music you like and matches other artists to it. On the run I discover an up-tempo track called 'Latch' by Disclosure, which is great because on a dark, frosty morning, I need all the help I can get.
My first meeting of the day is with our new country launch team. Our offering is now available in 17 countries, having recently added Ireland and Luxembourg. As one of the first three UK employees when I joined four years ago, it's been fantastic seeing the firm expand. Adding new markets gives our sales teams the scope to help brands reach a global audience with one campaign.
The rest of the day is spent in a trading meeting with Marc Bignell, buying director for Omnicom Media Group I then head out for an early dinner with a client at a new Danish steak restaurant, called Mash in Brewer Street. The Danish style of informal eating and drinking, coupled with an excellent steak and cocktail or two make for a great evening.
Wednesday
Today, I'm meeting Asos to finalise US and UK partnership plans. A lot of the brands that advertise with us work with us on brand partnerships to ensure their campaigns deliver a tangible ROI.
For example, Asos's recent campaign featured an interactive music video where Spotify users could click on the clothes worn by the artists and drop them into their Asos shopping basket. In the meeting we talk through the campaign noting how the highly engaged audience resulted in some impressive results.
I head back to my desk for the remainder of the afternoon. Daniel Ek, chief executive and founder of Spotify is in town for a few days, so we catch-up over a game of table-tennis (which is situated conveniently close to my desk).
He is based primarily in Sweden, but it's great to catch-up with him in person as he exudes passion for the brand and has lots of creative ideas which will give advertisers even more opportunities.
Thursday
The sales team has a morning of 2013 planning and I get back to the office just as British boy band Lawson is performing in our reception. This is part of our Spotify Live Lunch series which take place every fortnight, where a singer or band comes into our office to perform.
We invite along clients, new business prospects, agencies and media contacts to enjoy the performance with us. The event has a nice feeling of exclusivity and my team grabs some of the pizza that's also provided whilst enjoying the band.
After prepping for our European Summit, which is taking place next week, I head over to the O2 for the 50th anniversary Rolling Stones gig. I'm lucky enough to be hosted as part of a networking event by concierge company, Curo, founded by my friend Charlotte Van Reyk. I meet clothes designer, Karen Millen and property developer, Roger Smee and we all agree that seeing The Rolling Stones live is a once in a lifetime opportunity.
Friday
Admittedly a little tired after the gig, I have a brief meeting with my boss, Chris Maples, vice president of Europe and UK managing director, before we dial into "town hall", the weekly video conference with Daniel Ek. We have a top-secret event taking place on 6 December, so much of the conversation revolves around that.
It's been a good week and I'm looking forward to the weekend in the countryside with my family. While my partner Summer works on her company, Wurzel and Boo, which provides soft play toys and children's entertainment, I'll be decorating our spare bedroom for the new baby we have due in February. Exciting times.