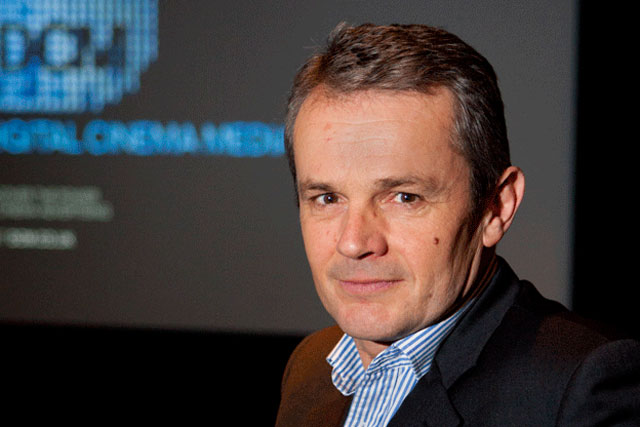 Monday
A big week for DCM, arguably the biggest for the cinema advertising sector in decades... We're 'switching' from analogue to digital.

It's been quite a journey since we launched our intention to 'go digital' last July. In the office at 8am and it's already buzzing, no time for Monday morning blues, despite the fact QPR lost. We have a tech meeting at 8.30am where we run through the pressing challenges that still need to be sorted prior to our Friday launch.

Six satellite dishes still need installing and software testing over the weekend has thrown up a couple of glitches in the Midlands. Three thousand digital projectors, 2000 hours of software development and the installation of 250 satellite dishes are in the final throws of testing…

The digital clock on our website reads 88hrs 38 mins to go….the project director is in top gear, head of IT, Simon Rose, is as cool as a cucumber. I'm off for a day of meetings in adland espousing the virtues of our new opportunity. First-off, Group M, love it!
Tuesday
Digital day minus three. Update from Marc Whitehead, digital project director, on the progress towards live digital implementation …three dishes still to be installed.

Every day we encounter a new use of media that demonstrates innovation. I'm eager to see how the creative industry will pick up and carry forward the new possibilities to choose, adapt and change messaging, thanks to the flexibility and new options for creativity that the digital cinema world unleashes.

Advertisers such as Pepsi Max and Cadbury's have already deployed second-screen technology to deliver content to mobile during ad spots in this year's Britain's Got Talent finals. Our watermarking tests have proved successful. I want more! Can't wait for cinema to join the digital fray.

Wednesday
Coffee with creative guru Andy Law of Fearlessly Frank. DCM has charged the innovations agency with a remit to help shape the company's vision and messaging as we reposition ourselves as a dynamic digital player in today's lightning fast changing media environment.
Andy's non-conventional, sometimes quirky, sometimes establishment-challenging approach has really impressed me and I'm looking forward to tapping into his creative brilliance at DCM.
PR meeting with our agency in preparation for the switchover this Friday. Made final changes to the press release and all the other materials that tell our digital story… and signed these off.
Catch up with Odeon's chief operating officer and chair of the DCM board, Roger Harris, to brief him on the status in the run-up to the big day and beyond. The tech guys are glued to their screens… it's all coming together, we're getting a few smiles! "Beer after work?" "No chance," they say, so I drag out some of the sales team…. that was hardly difficult.
Thursday
Today is the acid test on the success of DCM's 'Going Live' project. A lot rides on technological operations delivering processes that have never been automated before, so everything's crossed fingers here at Golden Square.
A follow-up meeting with Martina King, Cineworld non-exec. Martina is keen to learn more about the digital switchover, she's so excited for the project.

Mid-morning and I'm presenting to a car manufacturer about the 'Then' and 'Now' in cinema – "well that changes everything," he enthusiastically responds.
Lunch offers something completely different, meeting Chris Underhill, chief executive of BasicNeeds (a charity I chair). We talk strategy; we're now in 17 countries around the world. My monthly meetings with Chris are so refreshing!
After work, head over to The Soho Gallery to celebrate the seventh anniversary of indie agency the7stars… Great evening.

20.15 – I call the office. The scheduling team clicks the button. DCM is on its way to digital.

20.30 – I get a follow-up text. Receive news that mission complete. DCM has just scheduled 70,000 automated playlists in seven minutes. That's 10,000 per minute or 166 per second. Under the old system last week that was only 3000!
Friday

This is it, today and we've done it. DCM has booked and delivered 1.1 million advertising spots into 131 films nationwide.

I feel immensely proud of the whole of my team who have delivered this to the cinema industry, changing the way we work forever. From today, there are already campaigns for blue-chip brands running across DCM screens that would not have been possible a week ago due to our new capacity to accept later bookings and change copy.

Fifteen months ago we launched our audacious plan, and phase one is sorted. Onto the next!

10.00 and the company tucks into a huge launch cake. Half day today, beers on the boss…. not that I need any more after Jenny and Jarvo's [the7stars] party!
What a week… quiet weekend with Gill please!