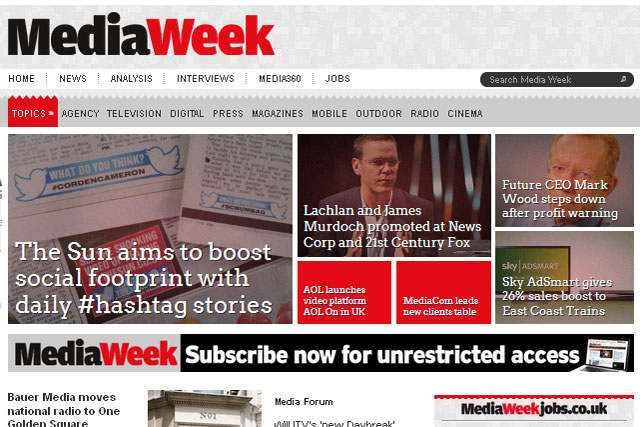 MediaWeek continues to be the leading business site for those working in and around the UK's commercial media sector.
It has evolved into the industry platform for those in the media business to share ideas and thoughts through comment pieces and features. Its daily bulletins now reach more than 115,000 registered subscribers.
Arif Durrani, editor of Media Week, said: "Six months after launching Media Week's mobile-optimised site, complete with additional social functionality and user-friendly navigation, our traffic has risen an amazing 40% year on year.
"It's a great result and testament to all the team and Haymarket Business Media's centralised web developers."
Media Week celebrates its 30th anniversary in February 2015. The brand was established when media specialists started to separate from traditional full-service advertising agencies to become vital strategic powerhouses for clients in their own rights.
Along with its tailored information and data services, Media Week plays a key role in Brand Republic Group's events. More than 200 leaders from the media and marketing sectors are expected to attend this year's
Media360 event on 8 and 9 May
.
Media360 will be chaired by Lindsay Pattison, chief executive of Maxus. This year's media speakers include: AdConnection's Catherine Becker, AOL's Noel Penzer, Carat's Matthew Hook, Daily Mail's Guy Zitter, ITV's Simon Daglish, Global Radio's Mike Gordon, Kinetic's Martyn Stokes, PHD's Daren Rubins, Twitter's Dara Nasr, VivaKi's Marco Bertozzi, Weve's Nigel Clarkson and Yahoo's Piers North.