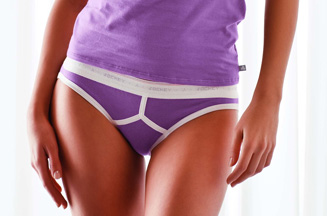 The Y-front brand - worn by the likes of David Beckham, Brad Pitt and Johnny Depp - is hoping to broaden its appeal to women as part of its celebrations to mark its 75th anniversary.
The Y-fronts for women will be available in four colours - two shades of pink, blue, indigo and light green. They will be part of a broader range of underwear and nightwear for women.
The UK lingerie market has undergone significant changes over the past decade. While Spanx and the part pants part corset style of 'granny pants' made famous by Bridget Jones Diary are continuing to grow their market share, UK women have ditched their obsession with G-strings - which had their sales peak in 2001 and have gone down hill ever since.
Whether UK consumers will embrace Y-fonts for women remain to be seen. While 'boy-short' pants are big sellers in stores such as Top Shop and Marks & Spencer the Y-front may prove to be a step to far.
The Y-front is the brainchild of Arthur Kneibler, who in 1934 was vice president of marketing at Coopers Inc. The new product proved so popular that the company later changed its name to Jockey, because in the US an athletic supporter is often referred too as a 'jock strap.'