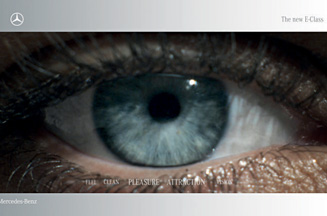 The car marque will run digital, direct, point-of-sale and CRM activity from next month. The work will take the theme, 'one of life's real pleasures', and explore the ranges' features and innovative design.
Mercedes-Benz will also set up a dedicated microsite that develops the 'pleasure' theme through the use of a blinking eye. Each blink reveals another aspect of the E-Class, such as its safety features, emission levels and engineering.
The launch of the ranges will be supported by television, press and outdoor advertising created by Abbott Mead Vickers BBDO.