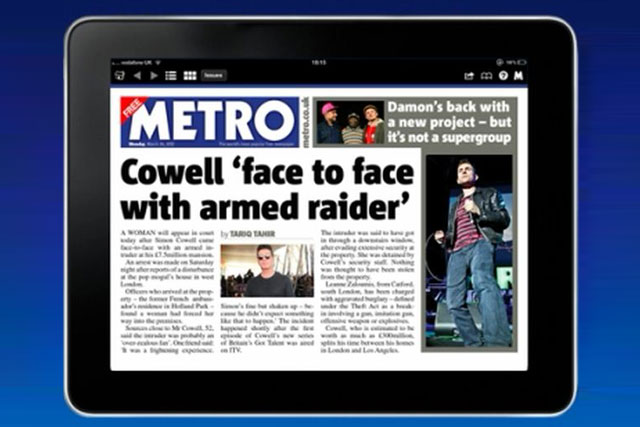 The campaign centres around digital outdoor activity, accompanied by print ads in Metro itself and digital ads on the music-streaming audio service, Spotify.
The commercial push is designed to get commuters into the habit of downloading the digital edition of the free newspaper, for use on tablets such as Apple's iPad.
From 4pm today (26 March), ads will run on JCDecaux's Transvision outdoor screens across 10 of London's busiest train stations – Cannon Street, Charing Cross, Euston, Fenchurch Street, Kings Cross, Liverpool Street, London Bridge, St Pancras, Victoria and Waterloo.
The 20-second ad will appear every three minutes, encouraging people to take a picture of that day's tablet edition front page and their location, for a chance to win a tablet.
Metro, part of DMGT's consumer media division, A&N Media, is giving away one tablet every day this week, and also promises to put the winner's name "up in lights" across the stations.
Print ads running in the paper will contain another chance to win a tablet with image recognition app, Blippar. Readers will also have the opportunity to play a 3D game off the page on their mobile phones.
The campaign will be supported with in-app advertising across the Ad Mobile Network, targeting tablet users in London, with a direct call to action to visit Newsstand/Google Play to subscribe to the Tablet Edition.
Bryan Scott, marketing communications director of Metro, said: "We are committed to providing urbanites with more ways to engage with Metro throughout the day, and the tablet edition is the perfect way for them access Metro's unique blend of news, entertainment, sport and celebrity gossip."
The ads were created in partnernership with the media owners Spotify and JC Decaux, with media planning and buying handled by MediaVest.
The Metro activity comes as London prepares to offer many Overground and Underground train passengers free Wi-Fi in time for London 2012. The Cloud, the BSkyB-owned Wi-Fi provider, is providing free Wi-Fi at 12 London Overground train stations and Virgin Media will power Wi-Fi services for parts of the London Underground.
Last month, Metro reported that almost third (29%) of its UK website traffic came via mobile devices while its iPad app received more than 360,000 downloads between October 2011 and February.
Metro's focus on attracting urbanites on the move was further demonstrated by the launch of the Metro app for Windows Phone before Christmas.

Grant Woodthorpe, sales director at Metro, said: "Metro is focussed on delivering the best integrated opportunities for advertisers to engage with our urbanite audience. The growth of our mobile properties, both on tablet and phone, combined with the success of Metro.co.uk and the positive reaction to the newspaper redesign last year, means that we're in a great position to maximise advertiser exposure across all these channels."
Follow Arif Durrani on Twitter @DurraniMix