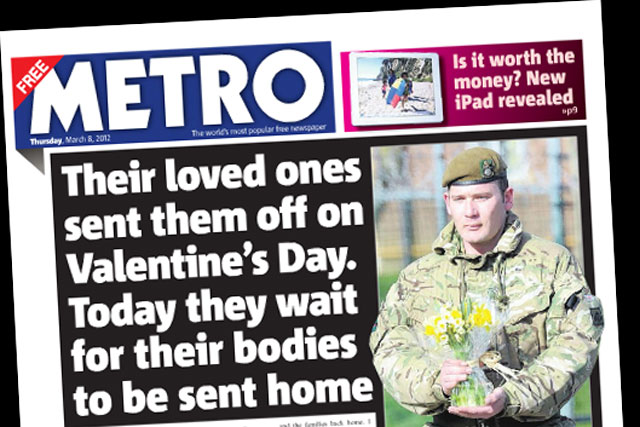 Metro will produce the Saturday and Sunday editions across the five weeks of the Olympic and Paralympic games, with 325,000 copies available on Saturday and Sunday mornings in London.
Editions will carry extended Olympics coverage, news and features with strong London slants, in addition to the main news.
Tablet editions will be published twice daily, seven days a week, and will include coverage of the day's Olympic events, previews of the evening events and features on the "hot" athletes and notable sporting battles.
In addition, online coverage will be supplemented with a dedicated Olympics Twitter feed @Metro_Olympics and microsite at www.metro.co.uk/olympics.
Linda Grant, managing director of Metro, said the digital developments were intended to increase consumption via mobile.
She said: "We are continuing to develop our mobile and digital products to extend the appeal of Metro beyond the traditional commute.
"We know that the urbanite audience are highly engaged with mobile technology and these innovations allow them to interact with us more frequently throughout the day, and help them get the most out of their Olympic experience."
Metro launched its tablet edition in October last year.
Several publications produced special or commemorative editions for the Royal Wedding last year. Notably, the London Evening Standard produced its first bank holiday edition in 30 years.
Associated Newspapers has been paying Transport for London in the region of £3m to distribute the Metro at Tube and bus stations.