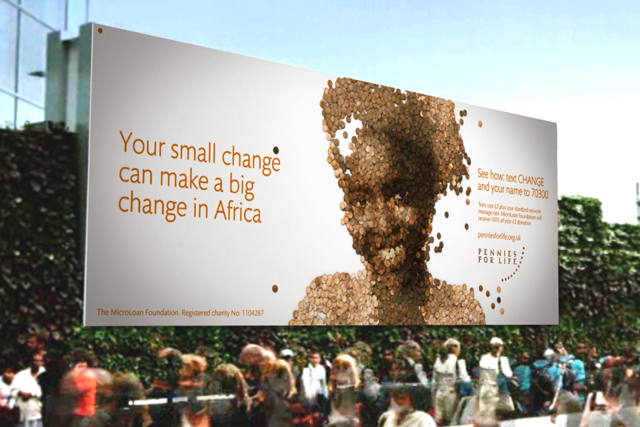 The campaign was created for the charity by DLKW Lowe for Ocean Outdoor's The Art of Outdoor Digital Competition, run in association with Brand Republic.
The foundation, which provides small business loans to women in sub-Saharan Africa, is using the space it was awarded for winning third prize.
The screens showed an incomplete image of a smiling African woman made from one pence pieces. A new batch of coins fall into place on the poster to reveal more of the woman when passersby text a donation to the charity.
Donors can discover where their coins have been placed by visiting the Microloan Foundation's website penniesforlife.org.uk and share the information through Twitter, Facebook or email.
Greg Delaney, chairman of DLKW Lowe said: "The beauty of this idea is not just that it uses innovative digital and mobile technology to allow you to interact with the poster, it harnesses this for a great cause – deepening engagement and strengthening the relationship between donor and recipient."
Tim Bleakley, chief executive of Ocean Outdoor, said: "This is a superb example of unlocking the full potential of digital out of home and for a bloody good cause."
The digital production and technical build was coordinated by outdoor production agency Grand Visual, the 3D motion graphics were produced by Absolute and the website design and build was by United Studios.
Follow Maisie McCabe on Twitter @MaisieMcCabe