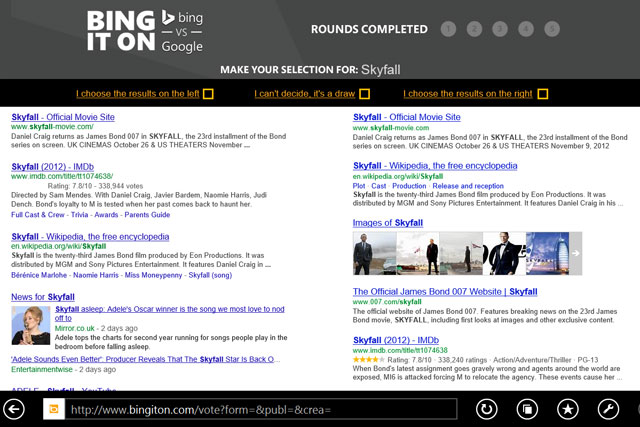 The "Bing it on" creative challenges consumers to directly compare Bing's search results with Google's, using a new online tool at www.bingiton.com.
Consumers can make five searches on the site with two separate results pages coming up alongside each other. Users can choose which search result they think is better overall without knowing whether it belongs to Bing or Google, and then is told at the end of the exercise which tech giant they plumped for more.
The campaign is being promoted through video and digital advertising, PR and social activity. Experiential activity will feature actor Dan Jones challenging people on the streets of London to take the trial.
Microsoft claims that blind tests already carried out on 1,000 people using the online tool revealed 53% of people picked Bing over Google, while 34% picked Google over Bing, and 13% couldn't decide.
Brian Kealy, head of Bing for Microsoft UK, said: "Our research reveals that a huge number of British people do things out of habit – 90 per cent said they would be prepared to break their habit of a lifetime if it provided them with a new experience.
"We believe one such habit is using Google by default, so this campaign aims to show that consumers have a choice for the first time in a long time. We've made huge strides with Bing in recent years and Bing is now a genuine challenger to just 'Googling' it.
"We've removed all branding and other visual triggers from the results of the online tool so people's decisions on which they feel are more useful will be based purely on the content delivered to them. We're confident in the quality of Bing's results and we believe many people will be pleasantly surprised by the outcome of the challenge."