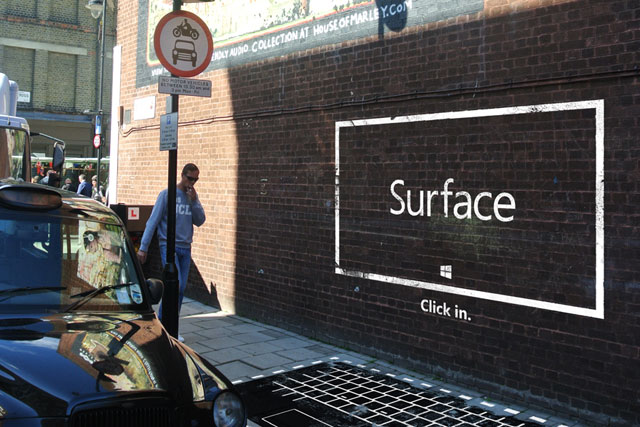 The tech giant has graffitied various buildings, pavements and walls in 30 urban sites in the UK with Surface artwork.
The ads are created with chalk and vinyl, though one site in London is in ultra-violet (UV) material, and the tallest 12 metres high. The ads do not have a call to action and the campaign will not be supported by social media or other media activity.
Instead, Microsoft hopes the content will be shared organically, which it says will make it "more authentic". It will be measuring the reach of the campaign with social buzz monitoring.
UM London handled the media for the campaign, working with ambient advertising specialist Curb.
This is the first time Microsoft has used ambient out of home advertising before, and the campaign marks a creative diversion from the brand's usual marketing activity.
Paul Davies, director of marketing communications at Microsoft UK, said: "As a brand we are constantly looking for new ways to cut through. We've never done anything like this before."
Microsoft launched a global TV campaign to promote Surface two weeks ago.
Follow @shearmans