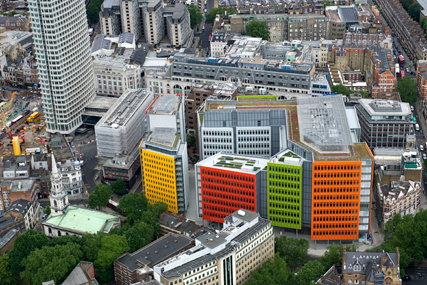 The Central Saint Giles development is the Italian architect's first completed building in the UK. Piano is also the architect behind London's Shard of Glass, a 72-floor triangular skyscraper currently under construction at London Bridge, and worked with Lord Richard Rogers on Paris's iconic Pompidou centre.
Both Mindshare UK and Worldwide are moving into the new building, taking 78,000 sq ft of space on the seventh and eighth floors. The agency's staff will have access to a roof terrace with panoramic views over the Houses of Parliament and the Southbank.
The firm is understood to be moving offices within the next six months, although it was unavailable for comment at the time or writing.
Simon Wilkes, head of development at Legal & General Property, which co-owns the building with Mitsubishi Estate Company, said: "This is a significant milestone for the Central Saint Giles Partnership.
"It is very pleasing that our first office occupier Mindshare has a reputation for being creative, innovative, forward-thinking and market-leading, given that these are the same attributes ascribed to our development."
It is also understood that Specific Media is planning to move into the 10th floor of the Central Saint Giles development.
Mindshare rival Carat is also due for an office move to Triton Street, Regent's Place, where it will share offices with other Aegis Media UK companies.
Carat is hoping to be housed on fewer floors than it currently occupies at Holborn's Parker Towers, as a way of furthering communication within the agency.
The move is being planned alongside a repositioning of the agency, which new managing director Tracy De Groose recently revealed would be happening later this year.