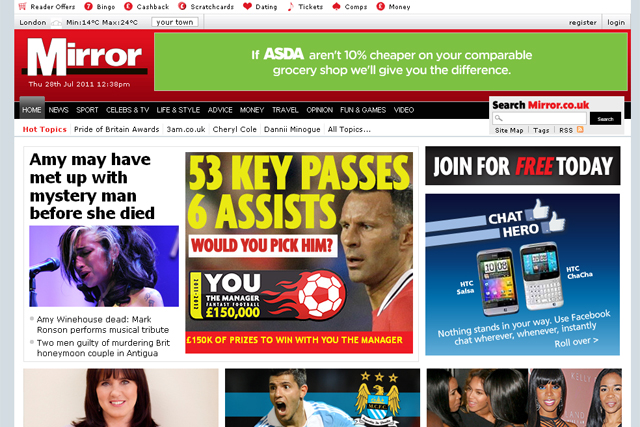 The onset of summer, and with it music festivals like Glastonbury and sporting events like Wimbledon, did not stop the website for the Mirror Group gaining daily users, up 3.3% to 730,296.

It a follows a concerted new social media strategy implemented at the Mirror since Easter, as revealed by Media Week. But the publisher's renewed foray into Facebook was not enough to prevent Mirror.co.uk's total monthly figure slipping 6.7% to 14.7m.

Telegraph Media Group's site was the biggest monthly faller, with daily average users down 12% to 1,921,711. Telegraph.co.uk's total monthly figure now stands at 36.5m.

Mail Online continues to be the most popular UK newspaper site, with a total monthly audience of 67.1m, however daily users dropped 7% last month to 4,365,716.

The Guardian.co.uk withheld its average monthly figure following a new strategy implemented in May, but its daily average users dropped 7.6% to 2.6m.

The Independent's site saw its daily average users slip 7.3% to 625,999. The site's monthly average in June was 13.5m.
The figures for June published today could suggest the beginning of the end for the phenomenal yearly and monthly growth experienced throughout the online news sector in recent years, as the business matures. It follows strong figures in May but the relative monthly drops are notable. Media agencies and analysts will be tracking the upcoming months carefully.
The summer exodus on its own does not explain the lull. This time last year all the audited newspaper sites reported a lift in average daily users and only the Guardian.co.uk posted a monthly dip, of just 1.2%.
Today's audit is also far from representative of the entire market. Major newspaper sites not having their monthly figures officially published by ABC are the Financial Times, Daily Express, London Evening Standard, The Sun, The Times and Metro.
ABC figures June 2011
June
Month / month
Year / year
June
Online title
Global Daily Ave
Daily % change
Daily % change
Global monthly total
MailOnline
4,062,059
-6.96
63.43
67,110,048
guardian.co.uk
2,613,405
-7.58
28.33
n/a
Telegraph
1,921,711
-12.2
8.22
36,457,713
Mirror Group Digital
730,296
3.32
38.43
14,708,075
The Independent
625,999
-7.28
27.14
13,513,040