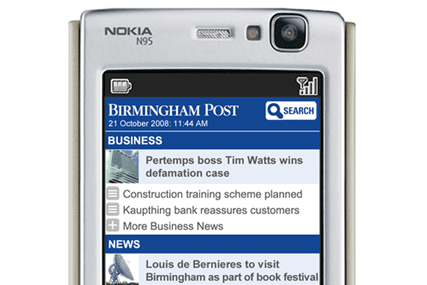 The sites will provide free content and will be financed through long-term sponsorship deals and banner ads. The Mirror mobile site is sponsored by Mortgage Monitor and Sporting Bet.

The launch of the new sites would follow the Birmingham Post's mobile service, launched last week, and the mobile site of national paper, the Daily Mirror, the week before.

The Birmingham Post site does not carry any ads at the moment. Initially, sponsorship of the mobile sites will be managed by the mobile and interactive team at Trinity Mirror.

The banner ads on the site are handled by Nokia Interactive. In the first week of the Mirror mobile site, some ads recorded a 4% click-through rate. Banners will be on the Birmingham post site in the next few weeks and Rick Gleave, head of Trinity Mirror Interactive and Mobile, said they would not be "intrusive to the experience".

It is thought that the next sites to be launched will be The Chronicle and The Journal in Newcastle and The Gazette in Teesside this week.

Other regional mobile services will be launched for The Daily Post and Echo in Liverpool, the Huddersfield Examiner, the Daily Post Wales, The Western Mail and Echo in South Wales, the Coventry Telegraph and the Birmingham Mail.