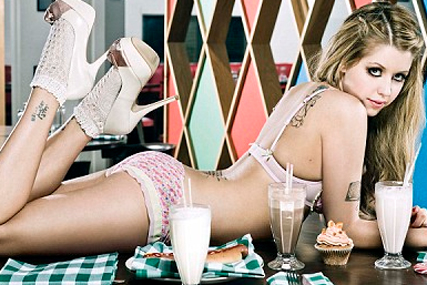 Nude pictures of Geldof were posted on the internet over the weekend by US artist Ben Mills, who claimed he had sex and took drugs with the star. She has denied "parts of his account", in particular allegations that she was carrying and injecting heroin.
Ultimo is now in the process of removing all visuals of the 21-year-old from its website, as well as from all shops and window displays. It is reported to have received 3,000 complaints about Geldof, who was brought in as the face of the brand last May.
The Miss Ultimo range is geared towards women aged 18 to 25 and has been stocked in Debenhams stores and online.
A spokeswoman for Miss Ultimo lingerie said yesterday: "We have been in meetings all morning with regards to the stories that have surfaced over the weekend about Peaches and, unfortunately, we have no option but to terminate her contract.
"Miss Ultimo is a brand geared towards a young female audience and, as a company, we have a social responsibility to ensure we are promoting only positive role models that young women can aspire to.
"We are thus in the process of removing Peaches from the website and we are working with Debenhams to remove her visuals from all Miss Ultimo shops and window displays throughout the UK."
Ultimo signed up Kelly Brook to front its main brand last week and she will feature in future ad campaigns.