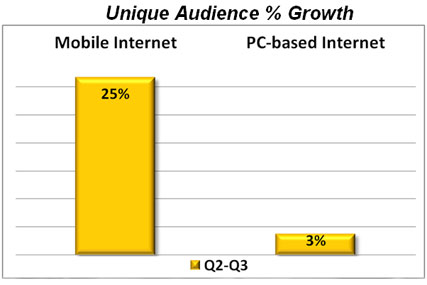 Results from the study Mobile Media View, highlight that usage of the mobile internet is increasing eight times faster than PC-based internet growth, rising from 5.8 million to 7.3 million between the second and third quarters of 2008.

BBC News is the most popular site, being visited by 24% of British mobile internet users, followed by Google Search(23%), BBC Weather (21%), Facebook (20%) and hotmail (14%).
Kent Ferguson, senior analyst at Nielsen, said: "The fact that weather, sports, news and e-mail sites make up the majority of leading mobile sites shows that mobile internet is mainly about functionality and need at the moment, as opposed to the more entertainment and e-commerce-focused make-up of the leading PC-based sites."

The mobile internet audience also commands a higher concentration of younger users than PC-based internet, with only 12% aged 55 or older, compared to 23% for PC-based internet population.

In total, almost seven and a half million Britons now access the web through their phone, leading Ferguson to conclude: "The mobile internet audience is becoming more mainstream and is fast becoming a viable way for advertisers and publishers to reach important demographic groups.

"Growth of 25% between the two quarters this year is significant, and while advertisers and agencies may be reluctant to experiment with the emerging platform in a depressed 2009, I believe it is the right time for forward-thinking clients to be taking risks.

"Those who put their stake in the ground now can win over the desirable young audience before their competitors get out of the starting blocks."