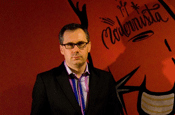 Despite being based in Amsterdam, Modernista! will aggressively chase business in other key European markets, with particular emphasis on the UK.

It will open its doors next week, with initial customers including a local client, Dutch Comedy Central, and some as yet unspecified advertising work for General Motors.

Modernista! handles Cadillac and Hummer in the US but the recent financial difficulties at GM mean that the agency's role for GM in Europe is unclear.

Charlton will run the agency as the managing director alongside Nate Taylor and Shane Hutton, the joint executive creative directors of the agency's Boston office, who are relocating to Amsterdam to become the creative directors of the European agency.

Clift Jones, the president of Modernista!, said: "Creativity is what Modernista! is famous for and our absolute core strength. Europe represents a huge creative opportunity for us, hence it is an obvious place to increase our investment."

Charlton, who joined TBWA in September 2007 to run the PlayStation business, became the managing director in February 2008. Following a management restructure, he resigned from TBWA in August of that year without a job to go to.

Before moving to TBWA, he spent nine years at Bartle Bogle Hegarty running the Sony Ericsson and Johnnie Walker accounts.