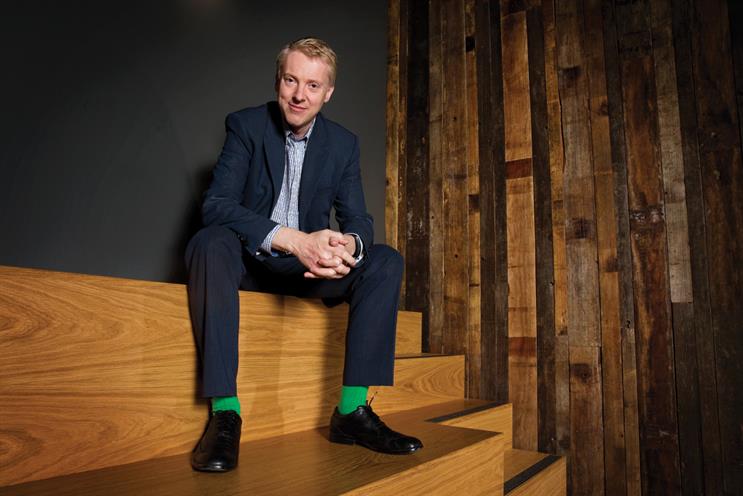 Samsung's Russell Taylor has an ad budget that most marketers could only dream about. The Korean electronics giant has resources that are mind-blowing. In 2013, it spent an estimated $14 billion on global advertising. That's 14 times as much as Apple spent during the same period and about the same as Iceland's GDP.
More than enough to enable you to throw your weight about. And Samsung has certainly been doing that of late with a heavyweight £10 million TV-led campaign for its Galaxy Alpha smartphone starring Lily Allen and a spot showing a falcon mistaking a mouse on the Galaxy Tab S screen for the real thing.
Taylor, Samsung UK's vice-president of corporate marketing, would never try arguing that size doesn't matter. Not least because of what it allows him to do.
"Of course we have budgets other people would envy," he says of a company whose global adspend outstrips that of Unilever ($8.6 billion) and Procter & Gamble ($9.7 billion). "But, more importantly, we have the resources to do great marketing.
"I don't want us to be feared for the size of our budget but for the quality of our ideas. I want our agencies to overwhelm me with so many ideas that I can't possibly say yes to them all."
Taylor's demands are the result of the problems that follow the breathtaking speed at which Samsung has established itself as the world's best-selling Android manufacturer. Its name is also on one in every two TVs and smartphones sold in Britain.
But while Samsung's technology is highly regarded by consumers, they have no emotional attachment to the brand. Taylor's job is to change that.
In fact, his arrival 18 months ago from Unilever, where he led the global marketing for Lynx, was interpreted as a clear signal from Samsung that it planned to present itself as more than a faceless creator of high-tech kit ranging from washing machines and fridges to floorcare products and home-security devices.
Taylor is very much a man on a mission or, as he describes it, a journey that he believes will end with Samsung having developed "a personality and a heart and soul that transcend the products we make".
Such is his ambition that he has vowed to transform Samsung into the UK's most-loved brand. This sounds a tall order given its Far East roots and the subjectivity of "love" itself. How do you know when you're being loved enough? Taylor believes instinct will be the determinant: "We want to make people proud to be associated with our brands and, at the end of the day, we'll know we've done a good job if our work has the respect of the creative industry."
The challenge is very different to the one that confronted him at Unilever. Indeed, Taylor claims that is why he is so excited about it. "Unilever is a marketing company that, through the consistency of what it does, can get consumers interested in products they don't necessarily talk about every day," he explains.
"At Samsung, the reverse seems true. We make products like mobile phones that everybody talks about. Now we have the opportunity to bring some warmth and emotion to what is a fascinating industry. A lot of Unilever brands have a clear positioning. I'd like that to be the case for Samsung."
However, the constants that help Unilever shape future strategies are absent at Samsung. As Taylor points out:
"In years to come, Unilever will still be making washing powder. At Samsung, we can't say for sure what we'll be producing in ten years' time."
"We have to ensure that, as our products evolve, we become part of people's lives," he adds. "And because we have the biggest brand, we have the opportunity to 'own' the connected home in a way nobody else does."
What remains to be seen is whether a brand that, by Taylor's own admission, had low awareness, no positioning and advertising that talked only of the quality of its products can get some marketing consistency after last year's pan-European agency review aimed at making its advertising more creative and targeted.
Samsung: recent £10m Galaxy Alpha campaign featured Allen
The review still leaves an extensive roster. Cheil, of which Samsung owns 15 per cent, retains pole position on a list that also includes Leo Burnett, Bartle Bogle Hegarty, CHI & Partners and 72andSunny.
How the arrangement will work globally has still to be determined, although the diversity of Samsung's product range means there will be plenty of work to go round, Taylor promises.
Meanwhile, he believes that, with Cheil UK's Galaxy Alpha spot, Samsung has laid down its marker. "It's early days," Taylor accepts. "But the creative community is starting to see that we're beginning to do things differently."