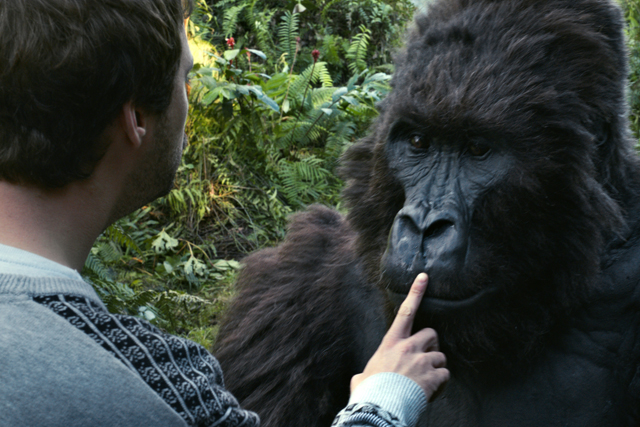 The aggregator is rolling out a second TV ad featuring 'everyman' brand characters, this time a character named 'Dave' who is feeling buoyed after saving £200 on his car insurance by shopping for it through Moneysupermarket.com.
In the comedic TV ad, by Mother, Dave strides into the jungle and interrupts a quarrel between two silverback gorillas. The stand-off ends with Dave winning out and becoming the new 'chief gorilla'.
The 'Gorilla' spot breaks on Sunday (11 September). It follows the brand's previous TV ad, 'Surf', in which a character named Geoff impressed holidaymakers by riding the waves on an inflatable crocodile.
The latest creative style replaced the brand's series of ads starring comedian Omid Djalili and various celebrity guests, including former Deputy Prime Minister John Prescott and current Celebrity Big Brother contestants Jedward.
Paul Troy, director of consumer marketing at Moneysupermarket.com, said the ads' style was intended to build a more serious brand proposition than its rivals.
'You need to act like a brand to win hearts and minds (or) consumers won't consider you an established brand. We want to begin acting like a bigger brand to gain a wider appeal, and build something for the long term,' added Troy, who joined the business from Barclaycard earlier this year.
With Gocompare.com and Comparethemarket.com gaining high levels of awareness with their respective opera singer and meerkat brand mascots, the pressure has been placed on their rivals to produce similarly talked-about campaigns. Over the past year, Confused.com has used animated ad character 'Cara' in a series of pop-themed ads.
Gocompare.com spent most on advertising in 2010, investing £27.8m; Moneysupermarket.com spent £19.4m and Confused.com £20.5m. BGL Group, which owns Comparethemarket.com, spent £17.4m on media, according to Nielsen.